July 14 till August 19, 2018
Bræðslan, Víkurland 6, 765 Djúpivogur, Iceland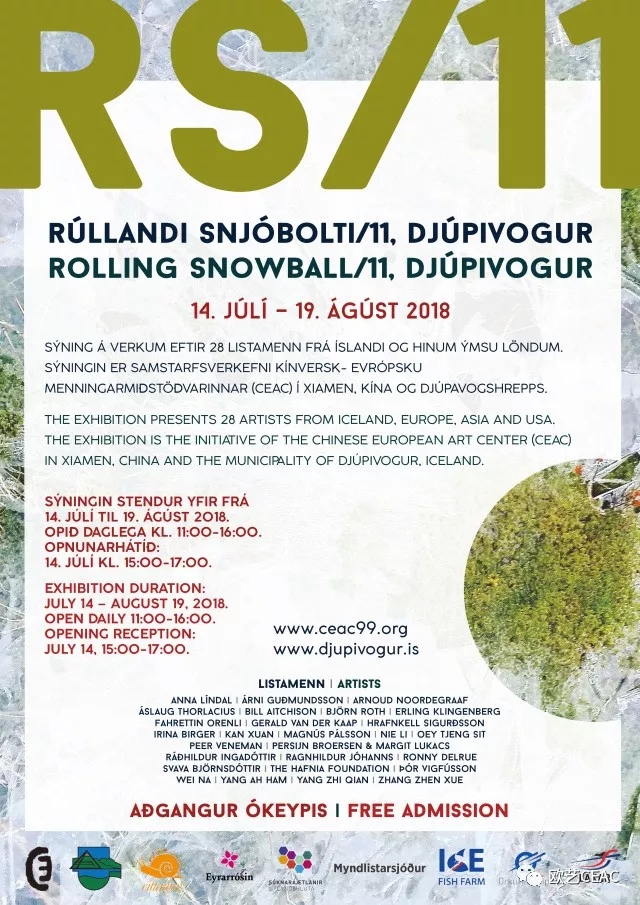 Djúpivogur has been an active trade location in Iceland for over 400 years. Foreign merchants, who were, among others, German and Danish, brought not only foreign products but also exotic cultural influences that contributed to the shaping of local flavors and cultural life, which today is dynamic and diverse.
To promote diversity further, Djúpavogshreppur became a member of the Cittaslow movement which consists of small local organizations in 27 countries around the world. Cittaslow's goal is to enhance people's quality of life and satisfaction by offering resistance to globalization, uniformity and compulsive speed in cities and towns of modern times and instead honor the uniqueness of each municipality. To achieve this goal Cittaslow municipalities concentrate on the protection of natural and cultural heritage, environmental beautification and quality, promotion of local cuisine, hospitality, courtesy and maintaining friendly relationships.
It is in this spirit that Djúpavogshreppur became involved in the project ´Rolling Snowball-5, Djúpivogur' in cooperation with the CEAC since 2014. Many people might wonder why such an extensive art exhibition is being installed in a small fishing village in Iceland. But giving it a closer look it should be no surprise. Djúpivogur has a long history and its inhabitants have for ages celebrated cultural influences that often came from faraway places with traders, fishermen and others who came to the village for a short or long stay. Writers and other artists have for the past several years sought inspiration for their work from the environment and the people in Djúpivogur and I hope that will continue.
The willingness of the municipality of Djúpivogur is clear. We will continue to strengthen and contribute to the rich cultural life and welcome all who want to be a part in that journey. By doing so we advance the quality of life of those who live here and at the same time encourage others to visit us.
Gauti Jóhanesson
Mayor of Municipality of Djúpivogur, Iceland
The exhibition will be opened by Guðni Thorlacius Jóhannesson, the President of Iceland and the First Lady Eliza Reid. The musician Lay Low will perform for the guests as well. Many of the participating artists will attend the opening.
Participating artists
anna líndal, árni guðmundsson, arnoud noordegraaf, áslaug thorlacius,
bill aitchison, björn roth, erling klingenberg, fahrettin orenli,
gerald van der kaap, hrafnkell sigurðsson, irina birger, kan xuan,
magnús pálsson, nie li, oey tjeng sit, peer veneman,
persijn broersen & margit lukacs, ráðhildur ingadóttir, ragnhildur jóhanns, ronny delrue,
svava björnsdóttir, the hafnia foundation, þór vigfússon, wei na, yang ah ham, yang zhiqian,
zhang zhenxue.
Gallery