July 2 till August 21, 2016
bræðslan, víkurland 6, 765 djúpivogur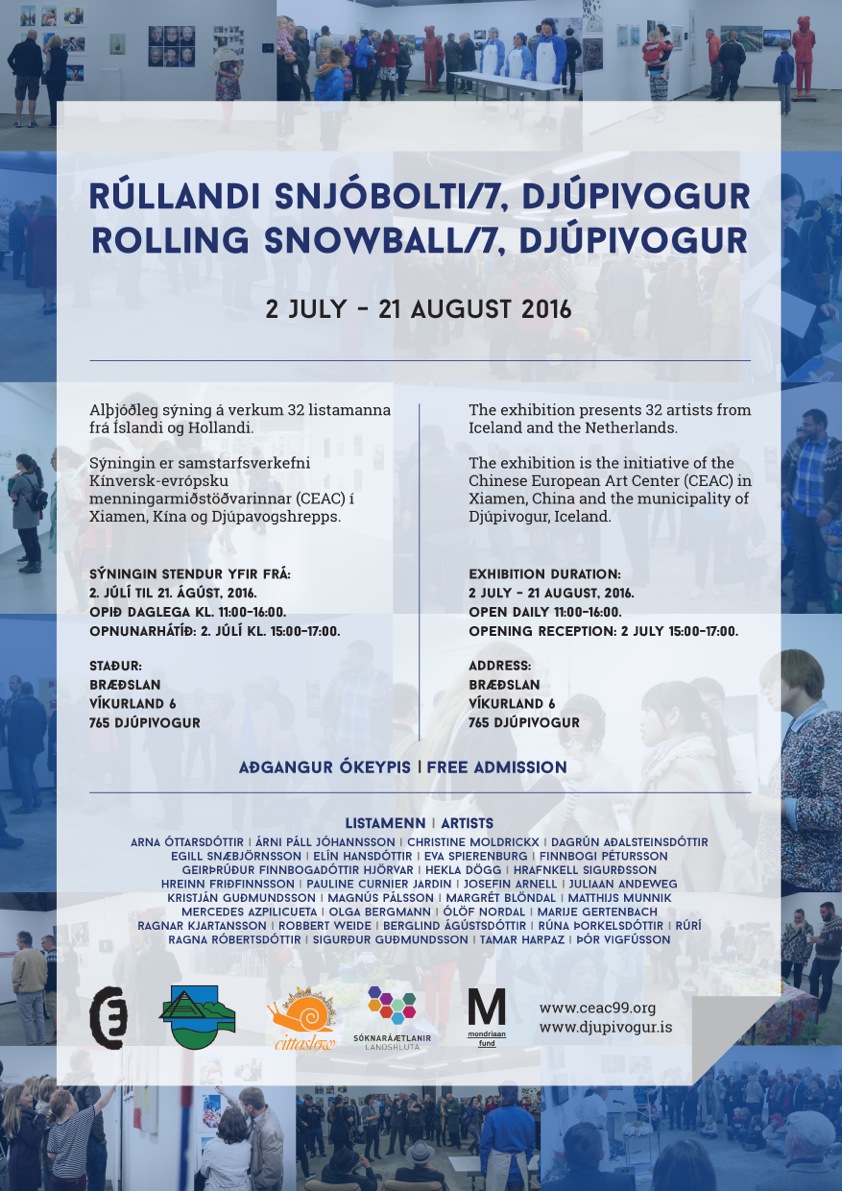 The Chinese European Art Center (CEAC) in Xiamen, China has been organizing large-scaled group exhibitions outside of Xiamen and even outside China since 2010. A total of six of them have been realized in collaboration with local cultural organizations in cities including Shanghai, Guangzhou, Quanzhou in China and in Djupivogur, Iceland. These group exhibitions brought together international artists from the full spectrum of disciplines including drawing, photography, painting, sculpture, video and performance. They serve as the perfect occasion for establishing partnerships, cultural exchange and creating exposure.
The two Rolling Snowball exhibitions that were organized in cooperation with the municipality of Djupivogur in 2014 and 2015 were a great success. The event forms a highlight in the village over the summertime and attracts over 3500 international and national visitors during one month. This year we invited the Rijksakademie van beeldende kunsten in Amsterdam, to join the project. The Rijksademie residency is an institute for emerging professional artists from all over the world. It offers selected artists a platform for further development of their work during a two years' work period. We are very proud to work with Rijksakademie on this event.
The exhibition Rolling Snowball 7, Djupivogur in the old fish factory Brathslan, is liberated from a theme or one single curatorial perspective. Rather is strives and succeeds to show outstanding international and national artists together in the grand old fish factory, exchanging ideas and working together. Twenty-two renowned Icelandic artists from different generationsa are invited to present works together with ten young artists of the Rijksakademie. They show existing works within the exhibition or install a site specific work. Encounters with Icelandic artists and villagers, exchange of practices, work and life are a crucial part of the event. At the same time the show promotes emerging Icelandic and Dutch art.
We thank the municipality of Djupivogur and the villagers for their hospitality, and Alfa Freysdottir, Thor Vigfusson and Erla Dora Vogler for helping us achieve yet another successful event. We thank the Rijksakademie and our sponsors the Mondriaan Fund and Uppbyggingarsjothur Austurlands for making this event possible. Last but not least we thank the artists for sharing their work with us, and the public in Iceland. We are looking forward to a wonderful experience with all of you in the summer of 2016.
May Lee, director CEAC
Ineke Gudmundsson, Senior director CEAC
Annelie Musters, CEAC Platform Amsterdam
The exhibition will be opened by Mrs. Katrín Jakobsdóttir, Iceland's Minister of Education, Science and Culture and Mr. Gauti Johannesson, Major of Djupivogur.
Participating artists
Arna Óttarsdóttir, Árni Páll Jóhannsson, Christine Moldrickx, Dagrún Aðalsteinsdóttir, Egill Snæbjörnsson, Elín Hansdóttir, Eva Spierenburg , Finnbogi Pétursson, Geirþrúður Finnbogadóttir Hjörvar, Hekla Dögg, Hrafnkell Sigurðsson, Hreinn Friðfinnsson, Josefin Arnell, Juliaan Andeweg, Kristján Guðmundsson, Magnús Pálsson, Margrét Blöndal, Marije Gertenbach, Matthijs Munnik , Mercedes Azpilicueta, Olga Bergmann, Ólöf Nordal, Pauline Curnier Jardin, Ragna Róbertsdóttir, Ragnar Kjartansson, Robbert Weide , Berglind Ágústsdóttir, Rúna Þorkelsdóttir, Rúrí, Sigurður Guðmundsson, Tamar Harpaz, Þór Vigfússon.
Gallery