November 10 at 4 PM, 2012
November 10 till December 3, 2012
Redtory Art & Design Factory Guangzhou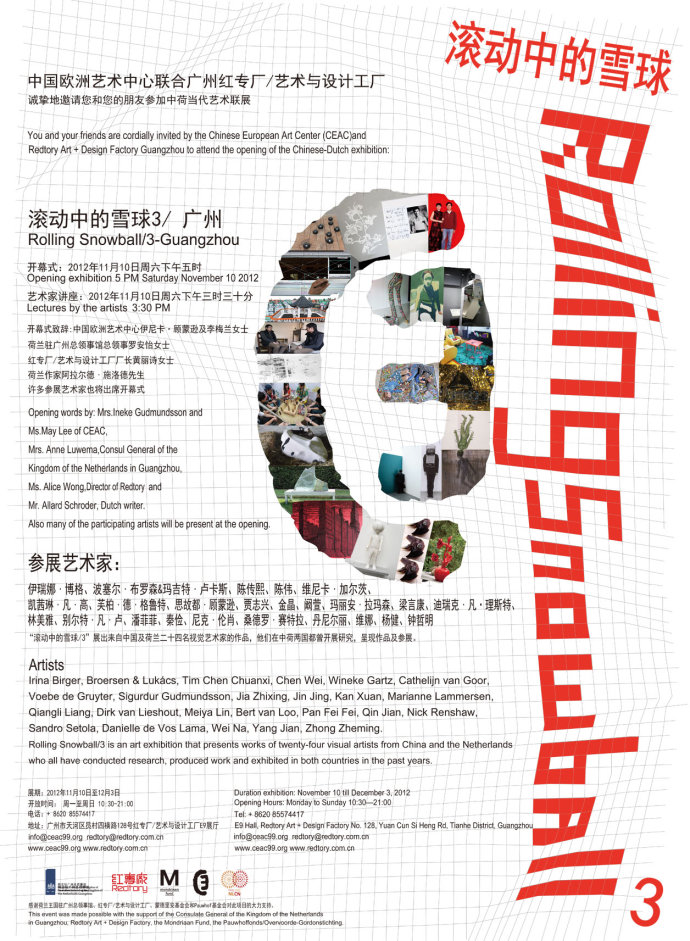 Since the beginning of this century Dutch interest in Chinese culture has blossomed and many initiatives were taken to explore and strengthen the cultural exchange. In China and the Netherlands, artist residencies were opened to artists from both countries. Many artists built a professional and successful career; they exhibit, start their own art initiatives and teach at Chinese universities and Dutch art academies. The network that has been created stimulates an active dialogue on ideas, information, art and artists.
Rolling Snowball/3 is a visual art exhibition that presents works of twenty-four visual artists form China and the Netherlands, and who have conducted research, produced work and exhibited in both countries. All the artists have either exhibited for, or worked as artists in residence at the Chinese European Art Center in Xiamen.The cultural exchange and collaboration has enriched the respective cultures' ideas and senses.
The Selected Artists
Irina Birger, Broersen & Lucács, Tim Chen Chuanxi, Chen Wei, Wineke Gartz, Cathelijn van Goor, Voebe de Gruyter, Sigurdur Gudmundsson, Jia Zhixing, Jin Jing, Kan Xuan, Marianne Lammersen, Qiangli Liang, Dirk van Lieshout, Meiya Lin, Bert van Loo, Pan Fei Fei, Qin Jian, Nick Renshaw, Sandro Setola, Danielle de Vos Lama, Wei Na, Yang Jian, Zhong Zheming.
Curators
Ineke Gudmundsson, May Lee, Annelie Musters.
Organisation
CEAC, Xiamen.
Co-organiser
Redtory Art + Design Factory, Guangzhou.
This exhibition was made possible with the support of the Netherlands Consulate General in Guangzhou, Redtory Art + Design Factory, the Mondriaan Fund, the Pauwhoffonds/Overvoorde-Gordonstichting and the Chinese European Art Center.

Opening words by:
Mrs. Ineke Gudmundsson and Ms. May Lee, Directors of CEAC
Mrs. Anne Luwema, Consul General of the Kingdom of the Netherlands in Guangzhou
Ms. Alice Wong, Director of Redtory Art & Design Factory Guangzhou
Mr. Allard Schroder, Dutch writer
Many participating artists will be present at the opening.
Gallery