February 25 till April 8, 2017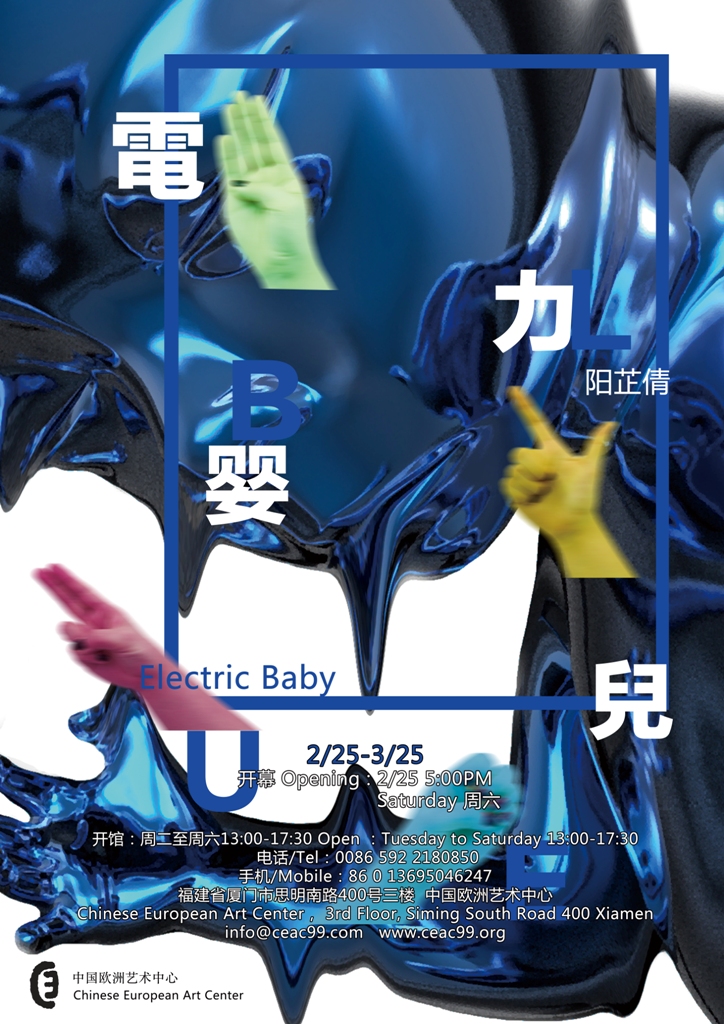 Chinese European Art Center is pleased to announce Yang Zhiqian's first solo exhibition Electric Baby.Chinese European Art Center is pleased to announce Yang Zhiqian's first solo exhibition Electric Baby.
Artist Statement:
Nine months ago, I suffered from attention deficit disorder (ADD), which urged me to establish a program as to help me decide on "how to hold an exhibition". There were 140,000,000,000 possibilities and I began to be obsessed in this accumulated energy without unnecessary details.
After that I built the 2.0 version(Algorithm)aimed at achieving the symbiotic relationship between my program and me. This program is connected to a word bank and all the words in it are from my immediate surroundings, daily conversations, questions I'm pondering on and words that I write down unconsciously. Then the program reorganizes it randomly into a new instruction via way of lifeless automatic writing, giving rise to an instruction named "I throwing an electric baby understand wondering the ministry of truth compressibility "through computation.
As an "information carrier", I am interpreted by the program and at the same time, extract the "information" through my understanding of the program before I take charge of writing my own story. By blending the facts and illusions at regular intervals and then demystify it, it is forced automatically to someone or something. From me to my program and then my program to me, we handle the transition from Lingua to Parole jointly in this process. Maintaining its first person narration, I emphasize my program as an entity with fixed self or personality. By refusing to believe that it is the fragmented fact I piece together, it continues its God-like transcription, no edit, remodeling and unshaped form.
Turing into a trigger, the instruction works as a vector point to connect my personal event with widely acknowledged symbols. By facts such as gestures, topographic map, geometric figures, signals and stochastic matrix which are difficult to control, I connect the short-term memory nodes and construct the truth sector resided by the electric baby urged by the external causes to express myself. I salute to the concentrated system made by multiple languages, the profiles of the basic items and the reaction of the consciousness. Finally, the event transforms into images and the images in my power relations absolutely deviant from its original intension and develops a disordered expanding assembly under the identity of "memory trace", thus accomplishing the placement of all the items in the space. The energy transform form stored in this concentrated space will decide whether this event is deadly or vigorous. They are polarized in my symbolic system through active, passive, stored, rhythmic, positive and negative energy charge.
I think my baby is my cold spot imaging. I attempt allowing my baby to communicate with the program, the energy field and the economy. I'm continually thinking how to establish the lichen of this matrix which will make it the most condensed without energy loss. I firmly believe that the rank will finally become a matrix and lose its dimension, giving rise to an infinite order transmitting mechanism. I have to kiss up to my electric baby as it will be the hub to unify my image and memory, conform the interplay between imagination and memory, refuse the symbols as orders, establish sign status and flux heterogeneous, parasitize in the blue outer idioplasm and then dissolves my presence evidence.