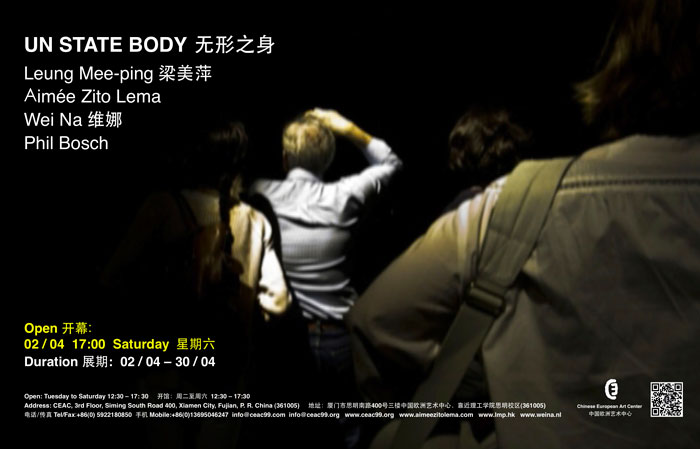 This exhibition entitled un state body presents four artists video pieces by Aimée Zito Lema (Argentina/The Netherlands), Leung Mee-ping (Hong Kong, China), Wei Na (Inner Mongolia, China) and Phil Bosch (The Netherlands).
Leading question in the videos is what shapes perception and meaning at the moment society undergoes radical changes? Taken as a start point from Phil Bosch work Telluric V, all the videos register different bodies in different contexts as carriers and 'outtakers' of shifts in meanings. The title of this exhibition refers to these moments of change when meanings are being set loose, or are in the process of becoming something else when coming into contact or connection. All the videos take the body as the vehicle to express this.
Aimée Zito Lema
(Argentina/The Netherlands, lives and works in Amsterdam, the Netherlands)
'Rond de jambe', 2015, 3 channel video installation with sound
www.aimeezitolema.com
Rond de Jambe is a research project that takes the history of the Stopera building in Amsterdam (The Netherlands) as a starting point. Built between 1979 and 1986, the building that serves as a home for the National Opera and Ballet as well as the City Hall was created with strong opposition from the neighbours and left-wing movements in Amsterdam. They claimed, among other things, that the space should be used for social purposes and houses, in opposition to that, the Stopera building would serve to an elite, and had been planned without any historical and social awareness or perspective, nor dealing with the traumatic history of the area (the old Jewish area) which was marked by the WWII. The conflict between the city government which supported the Stopera building and the neighbours led to years of confrontations, protests and demonstrations. The work Rond de Jambe takes this history as starting point and juxtaposes the 'political body' and the 'dancing body', by using archival images from these demonstrations and protests, and working together with dancers, translating the movements into dance.
Leung Mee-ping
(lives and works in Hong Kong, China)
'Out of Place', 2005-2011, video installation
www.lmp.hk
This is a long-term video installation project from 2007-2015. The works covers various cities, starting from Hong Kong, then other Asia cities as Beijing, Shanghai, Shenzhen, Vanarasi, Singapore、Bangkok, Tokyo, Bali, Yangon, Hong Kong, Wu Chi Minh, Seoul, Phnom Penh, Colombo, Manlia, Kuala Lumpur, Taipei, Macau, Ulaanbaatar, …etc., up to now 26 cities. It is I about close surveying and following a complete wanderer who wandering aimlessly in street. Through his/ her long feature to reveal the current scene of a city around her / his own life under Asia's influence of globalization —sameless within differences.
Through the individual, and probes into the ordinary life of a lone figure on the micro- views of Aisa's cities. I was survey a person wandering but also leading by them through the streets in city. It appears that I am secretly investigate a person who has no fixed place in the city, fast city development, homeless with nationalism, new technology in a traditional religious heaven and material world of a late capitalism.
Wei Na
(Inner Mongolia, China, lives and works in Xiamen, China)
'Temple', 2011, video with sound
'Mr Zheng', 2010, video with sound
www.weina.nl
The center of my work comes out of my observations and personal experiences of the world around me as I explore the basis of civilization, social process, human survival, and similar questions.
Mr. Zheng
An old Chinese man tells his own story in a certain room in Amsterdam China town. It based on my own experiences of communicating with different Chinese generations who live in Amsterdam. The work expresses feelings of living in a totally different world.
Temple
This work "Temple", it happened in summer 2010, I came back my hometown-Hohhot of Inner Mongolia from Amsterdam for summer holiday. The city had changed rapidly, I felt foreign once more.
It was one o'clock in night. With my friends I was searching for a place to eat. Came across a popular barbecue area. The building was architecturally miserable. It smelt of frying oil and coal-fired mutton; the tables were dotted with islands of dried ketchup and seasoning from the meals of leaving guests; the lighting was unforgiving, bringing out pallor and blemishes; And the chairs painted in childishly bright colors, had the strained jollity of a fake smile. I heard this building would be going to remove after two weeks (During the city development, all the old houses would disappear in my hometown soon).
I noticed a man was standing near the door and cooking the barbecue; sweat poured down his face, the gust of wind was blowing the smoke into his eyes, he was a bit cough, Sometimes the risen fire almost touch his face. But he has to continue all night, night by night… Yet something about the scene moved me. There was poetry in this cooking man. Or it is a picture of sadness – and yet it is not a sad picture. It has the power of a great melancholy piece of music. No one was talking, no one admitting to curiosity or fellow feeling. People gazed blankly past one another at the serving counter or out into the darkness. We might have been seated among rocks.
Its appeal made me think of certain other equally and unexpectedly images that had been touched me: the hands of a dustman, the mud on the face of a builder, the wrinkles on a vendor… and the work of a nineteenth-century philosopher on pessimism and a twentieth-century painter…
Phil Bosch
(The Netherlands, lives and works in Utrecht)
'Telluric V', (2014) video with sound
'Telluric II', (2012) video with sound
The two videos by Phil Bosch are part of the Telluric series that opens up to the question of what is that shapes perception and how meaning is being established.
The focus is to localize the unidentified space in what we see, what we think we see, and where not yet words have been found for. 'Tellus' means in Latin 'of or belong to the earth' and refers to the 'Telluric system', where the earth is being regarded as a living and breathing body where all natural phenomena and human activity are being established from their local context (and not by long distance forces such as the sun and the moon).
Telluric II is a poetic sequence of hand-shot, grainy 8mm images that seeks to defamed perception, opening up to subtle visual relations in between the different frames. Ultimately creating a shift from looking at a thing towards the act of looking itself.
Telluric V is a cinematic investigation that seeks to open up to a prelinguistic space in the attribution of meaning. Composed of digital video recordings and digitalized 8mm film, it deals with fragments of conversations about the origins of language and of a hunter gatherer society by means of the presumably oldest prehistoric sanctuary known as 'Göbekli Tepe'. The video is a woven structure of recordings of moving, watching, listening bodies in (for the viewer) unrecognizable, darkened spaces of monuments of historical importance such as the Vatican (Rome) and the Haya Sophia (Istanbul); of talking bodies in public spaces of resistance such as Taksim Square (Istanbul) by night where people were invited to speak about their wishes and hopes for the future, of pre-historic, rural landscapes and of vast colorfields of 8 MM recordings at moments of sunrise and sunsets.
Gallery