Friday February 27 at 5.30PM, 2015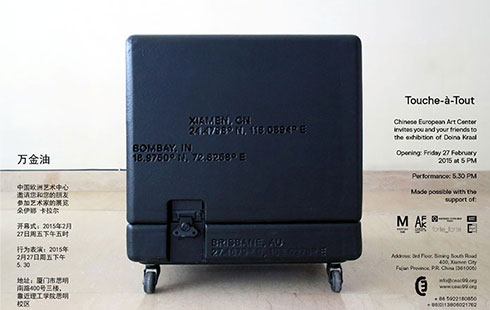 Touche-à-Toutis a portable multimedia installation, with which the artist Doina Kraal travels from Asia to Oceania, from North America to South America and from Africa back to Amsterdam. Traces of the journey will become visible in this work. Every place that she visits will add to her work in progress. Xiamen is after Mumbai, India, the second stop for Kraal on her journey around the world. On the 28th of February Doina Kraal and Touche-à-Tout will continue their voyage and travel to Brisbane Australia.
In previous projects Kraal focused mainly on 'looking' at the world. Touche-à-Tout stimulates all the senses using different media: you can taste flavours, smell scents, you can touch objects, hear – and make sounds. The audience automatically becomes part of the installation.
All the media that Kraal uses (rarekiek, slide, film and video, Internet) are representations of different forms of reality by means of which she keeps looking for the least static forms. Much like the Internet, many things happen simultaneously in Touche-à-Tout; it is an arbitrary yet connecting collection without a filter. At the same time Kraal questions the Internet. We no longer need to travel to find out what happens in other countries, via the Internet the world comes to you. But through the Internet only part of the senses are stimulated. With Touche-à-Tout Kraal will explore the world physically and represent her in all sensory forms.
A visual and musical performance by the artist is part of the Touche-à-Tout project. The performance will grow and change together with the piece. The development and travel of Touche-à-Tout can be followed on www.touche-a-tout.nl. The information collected at this website will eventually be published in printed form as an artists' book.
"From an early age I have been drawn to many different subjects and I have wanted to keep expanding my interests throughout the years. The result was that within the arts, I never chose just one medium. A predominant notion in the West, especially in the academic world, is the idea that focusing on one subject, one medium, and one question or issue, concentrating on one thing, will help obtain the best results. I looked for a term that encompasses the irony and clumsiness of a so-called all-rounder. In English this would be a 'Jack of all Trades' or 'Master of None'. In almost every language a comparable expression exists. The image of someone who cannot help but reach out to touch everything possible, this is what the French 'Touche-à-Tout' embodies and why it serves not only as title for the installation, but as a representation of my own metamorphosis, my coming to accept my own identity. Being the person who presents the piece, who moves it and who will perform with it, I personally will fulfil an important role in the work. The piece will be transportable as luggage on an airplane or a boat and the size will be adapted accordingly. The installation can expand and unfold and its size will be alterable." DK
Gallery