June 28 till July 11, 2014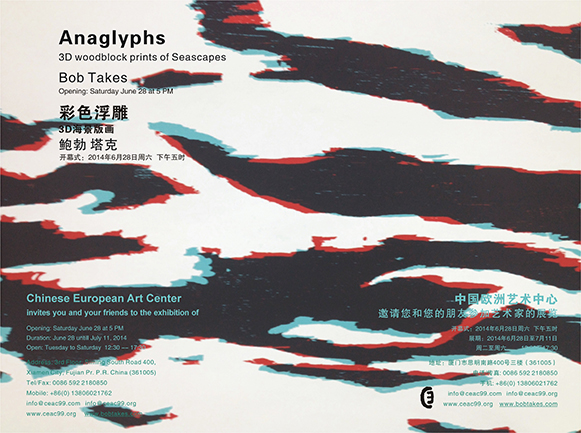 'Anaglyphs' shows the result of a three months project that artist Bob Takes started in Xiamen at CEAC and finished in his hometown in Belgium.
Bob Takes (1953) is a steel sculpture artist based in Antwerp. He studied graphic design and audiovisual design at the Gerrit Rietveld Academy in the 80's. Although his art is diversified, his background in graphic design is still clearly recognizable. Within his autonomous work Takes likes to play around and balance on the border of abstract and figurative. In the past Takes showed his work in established art spaces but also on a large scale in public spaces. Within most of the processes he goes through in order to make an artwork, he combines the digital with the manual. He came to Xiamen to take this merging of digital craft and manual craft a step further.
A recurring aspect in the work of Bob Takes is the 'Seascapes'. Within the Seascapes, Takes translates the dynamics of the sea into steel sculptures. For his project in Xiamen he wanted to use the same concept but use a different method. Instead of using steel, Takes experimented with the traditional Chinese woodblock printing technique dating back to ca. 1500. Nowadays there are only a few people left in China who still master this traditional technique. Takes reinterpreted this ancient method and made it his own by introducing digital craft and the art of 3D into the production process and the artwork itself.
In this exhibition, there are three works on show that mark the production process and Takes' practice of the traditional woodblock printing technique. The other works, the 3D Seascapes, named after their GPS position, N14º | W118º V1, N14º | W118º V2 and N14º | W118º V3 are the final results of Takes' project. The Seascapes are colored in red and cyan, so when seen trough the 3D glasses the Seascapes come to life.

Gallery