December 20 at 5 PM, 2014
December 20, 2014 till January 3, 2015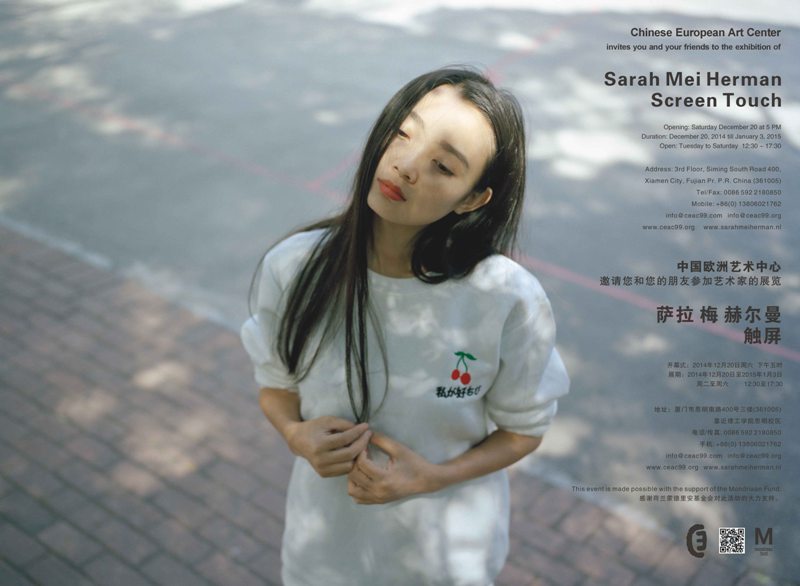 In her work Sarah Mei Herman explores relationships and intimacy between people. The closeness between them or what sets them apart, and the necessity of physical proximity to others. The most fragile and elusive contact between people often seem to exist beyond the reach of language. Herman focuses mainly on adolescents; their constant state of becoming; the fleeting beauty of the continual changes and transitions they go through on their way to adulthood.
"I'm drawn to the intensity, vulnerability and sometimes loneliness of the unpredictable stages of adolescence." SMH
During her time as an artist in residence at CEAC Sarah Mei Herman approached and photographed several young people, finding her subjects at the university campus as well as on the beach and in the streets of Xiamen. One of the things that struck me soon after my arrival in Xiamen was the extreme and constant use of smartphones, mostly by young people. Everywhere in the city people are constantly absorbed in their screens." The smartphone seems to somehow function as a tool for intimacy. It disconnects people but at the same time it has the ability to bring them together in a physical sense. It seems to have become an alternative way of achieving contact with each other: sharing intimacy through the smartphone.
I'm fascinated by this contradiction, which I would describe as detached closeness. Apart from photographs of young people, this exhibition also includes several "screens of the city" as I call them. To me these reflections of the city mirror the disconnection and detachment that seems to occur between people as a result of the intense use of their smartphone. They also symbolize the language barriers I experienced, and my struggle to communicate. However, my encounters with young people in Xiamen have also made me realize that language is not always necessary to get closer to people, even if it is just for a brief moment.
This artist in residence at CEAC in Xiamen was made possible by the generous support of Mondriaan Fund in Amsterdam.
Gallery