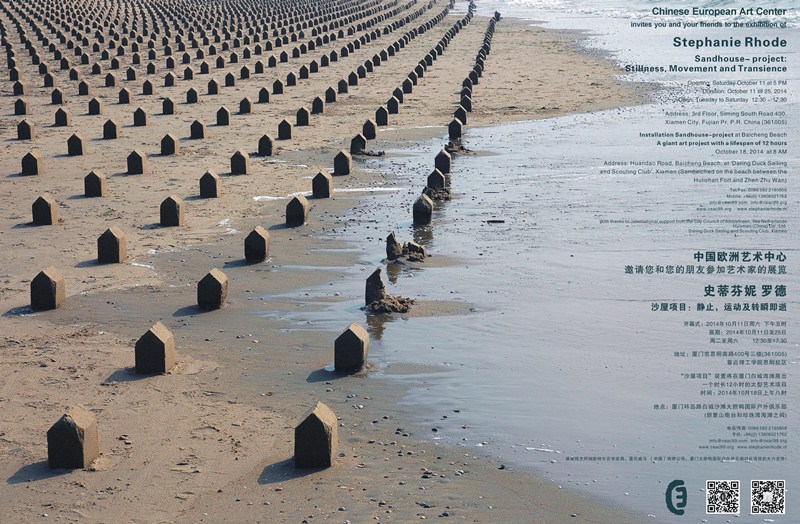 Rhode will build the installation of 'sandhouse-project' on the beach of Xiamen. This will be done during her stay in the Chinese European Art Center (CEAC) in Xiamen, with the help of students from Xiamen University who are studying Art and Culture. In September and October 2014 Stephanie Rhode will be in China to work at CEAC, an Artist in Residence with several studios for international artists.
Project description:
A giant art project with a lifespan of 12 hours.
Everything in life is current, everything comes and goes, and nothing stays as it is. We live in a world where everything changes all the time, there's nothing we can keep, and nothing stays the way it is.
It's a process we come across daily, sometimes we are very well aware of this, and sometimes it passes by without us knowing it. By creating a huge and current piece of art, Rhode wants to show the process of coming and going, but at the same time movement and stillness. She wants to demonstrate this in an easy, comprehendible and recognisable way. In 2007 she created 3000 houses of sand on the beach of Langeoog/ Germany and 2008 in Katwijk aan Zee/ The Netherlands. Then the flood came and took, piece by piece, all the houses till there was nothing left but a blank beach.
During her stay in Xiamen she wants to find out how the people in Xiamen react to the phenomena of transience when shown and experienced through a piece of art. Everything in life is transient, nothing is the way it was, and everything is constantly moving. Artistic representation and the underlying message will be actively experienced. Transience will become visible in a monumental way.
What's going to happen in Xiamen:
• Art installation from artist Stephanie Rhode on the beach from Xiamen on 18th October 2014
• And exhibition at CEAC at the same week 11th till 25th October
• Try out on Sunday afternoon 12th October
• 3000 houses from sand build by hand
• With a measure of 150 x 50m on the beach
• 65 moulds from wood
• Two big projection screen with informative film about this art installation and interviews with local people about the theme: Transience
• 50 volunteers from Xiamen University and other people who built together with the artist the 3000houses
• A unique project travelling around the world
With thanks to:

Huisman (China) Co., Ltd.
International support from the city council of Amstelveen, The Netherlands
Daring Duck Sailing and Scouting Club, Xiamen
Gallery