December 14 at 5 PM, 2013
December 14, 2013 till January 20, 2014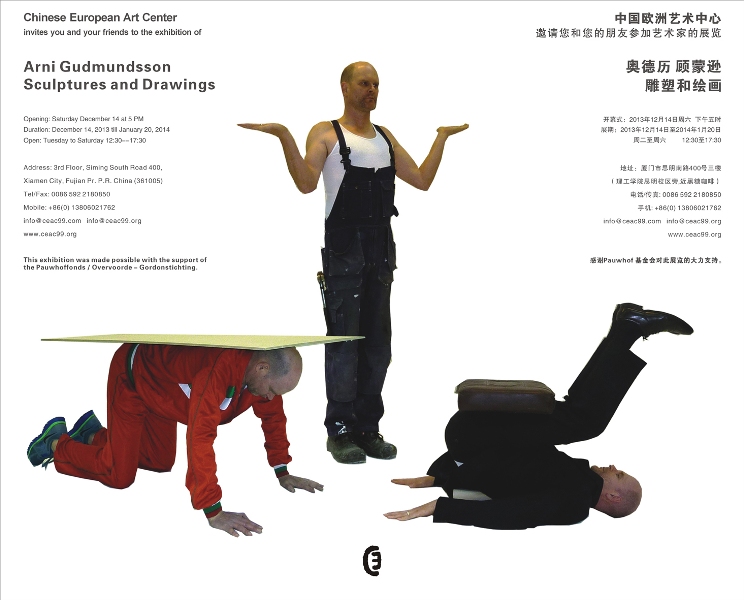 Arni Gudmundsson is a Stockholm-based artist working in a variety of mediums–from sculpture to photography, performance, and drawing. He is also the co-founder of two artist-run galleries in Stockholm (Konstakuten and IDI.) Along with being one of the initiators of Supermarket, an annual fair of independent artist initiatives, Gudmundsson participates in many shows throughout Europe, Asia, America, and the Middle East as both an artist and an organizer.
The works on display is a larger installation entitled, "Living Room", which was created while in residency at the Chinese European Art Center in Xiamen. Artists-in-residence seldom have all of the tools or workspace they are accustomed to in their home environments. This means the artist-in-residence is removed from their normal process of idea creation and production. For Gudmundsson, the development of ideas happens not in his studio, but while sitting on the couch in his living room.
In an attempt to develop this creative living area away from home, the artist assembles together sculpted furniture and decorates the walls with his own drawings. In this exhibition, a few individual personal artifacts from the complete installation are presented with an eye towards personalization of, and identification with specific objects.
As a child, Gudmundsson was titillated by Allen Jones' 1969 body furniture installation—in which female sculptures were positioned in provocative poses serving as furniture. As he grew into a more mature artist, and understood the sentiment that lay beneath Jones' figures, Gudmundsson found it interesting to consider how such work would function if he flipped the female figures to male. Forty-four years later he finds it compelling to examine if gender roles have progressed to a point where it is feasible to place himself as the object of titillation or not.
Because furniture functions as an everyday object, these sculptures are intended to be used—to be sat in, laid on, or hung from. Gudmundsson says of their use, "I hope people will sit on them and maybe have nice thoughts as trying to see the sexy in everything or the happiness of sharks."
As wall art, as the type that a person may hang above their couch, Gudmundsson drew a life-sized New World Vulture (Condor) in order to bring the reality of its wingspan or grandness up close. Only when something of that scale is seen in the context of one's own living room can one understand the magnitude of it in the outside world. Such is the thought process of the artist in his living room.
Arni Gudmundsson would like to thank everyone at the CEAC for their support and hard work in making this work a reality, and to the wonderful people of Fujian Province for inspiring him with their ingeniousness solutions to everyday problems.
Gallery
The gallery was not found!