November 23 at 5 PM, 2013
November 23 till December 7, 2013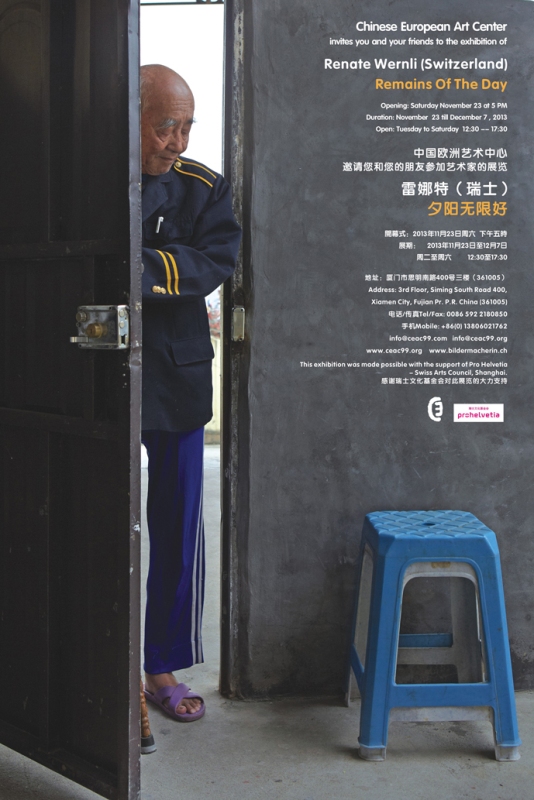 Swiss Photographer Renate Wernli (1967) focuses on projects, which are not too popular in our rapidly growing and proseperous world.
Many years ago, before she became a Photographer, Renate Wernli was working in Human Resources. And what she loved there – to be in touch with people and to give people a voice – led her to make a journey to the U.S. to pursue this passion in photography.
She has an affinity with people who are not on the bright side of life. People who are forgotten by society, because they don't fit into our perfect world, where creams, knives, clothes and jewelry make you believe in a good life.
In Switzerland she began many years ago to do projects about old people. So when she decided to come to China she carried with this subject.
China has changed dramatically in recent years, including the changing of family structure. In traditional Chinese society, the elderly used to live with one of their children. But nowadays, more and more young adults are moving out, leaving their elderly parents alone.
Renate Wernli wants to keep records about what happens to beloved parents in China, when they become old and maybe sick.
In this exhibition at CEAC she shows pictures made in Chinese nursing homes, portraits of Chinese and Swiss centenarians and about people with Alzheimer's disease in Switzerland.
Renate Wernli's interest is based on social and psychological issues. Even in situations of misery, sickness and poverty, she discovers the dignity of the individual.
Gallery