March 23 till April 6, 2013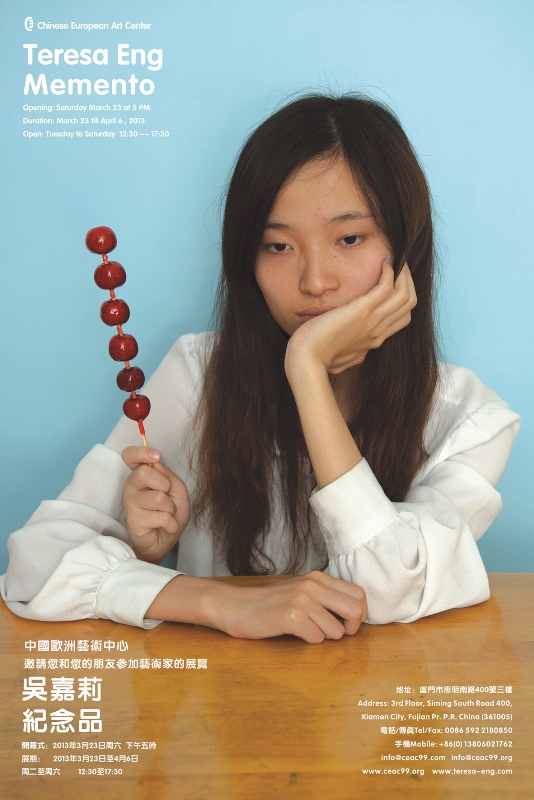 Teresa Eng is a Canadian artist based in London, England. Her photographic practice is based on the act of observation and attempting to depict the invisible.
Memento is an exploration of different ideas ranging from seaside towns to patterns of consumption. Teresa is interested in how disparate images related to each other, forming a narrative that lies outside of how each individual image is read. In the exhibition, Teresa is presenting a body of work consisting of her photography along with objects that were collected during her two and a half month residency at Chinese European Art Centre.
For the first time, Teresa is working with models to construct an absurdist view of everyday situations. She eschews the digital effects, instead arranging elements within the camera's monocular view to create her images. In Fruit self portrait, Teresa draws from her experience of being overseas Chinese. Locals commonly ask where she is from as she is unable to communicate in local dialect. This need to identify her nationality her deems her as someone who is familiar yet other.
Teresa's collection of found images and objects act as cultural artifacts. She presents an arrangement of Styrofoam fruit packaging which resemble a microcosm of anthropomorphic objects. Interspersed in the exhibition are collected photographs from old photographic studios and universities, changing the function of their original, intended use into something more ambiguous.
Memento presents a new direction in Teresa's work, finding wonder and humour within readymade objects and the everyday.
Gallery