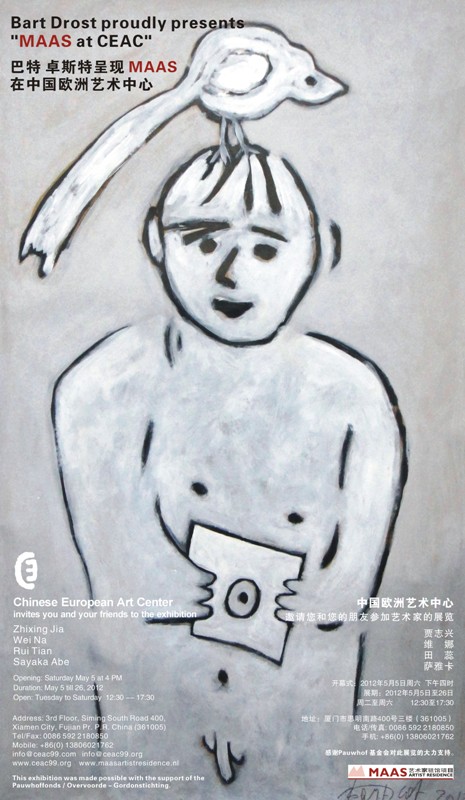 On Saturday May 5 at 16:00 Bart Dorst proudly presents MAAS at CEAC.
The participated artists are Bart Dorst, Jia Zhixing, Wei Na, Tian Rui and Sayaka Abe.
All the artists they have either had the Artist Residence program or made a presentation at MAAS. MAAS Artist Residence offers recent graduated Chinese artists a place where they can develop ideas, experiments and new work. This exhibition includes drawing, photograph, video and installation.
Bart Dorst (NL)
Drawings are most of the time the source of the works of the Dutch artist Bart Drost. Small sketches, scribbles and diary drawings turn out into paintings, sculptures, installations or even performances. Together with the former MAAS Artist in Residence Zhixing Jia, Drost visited the Venice Biennale in 2011. The drawings Drost made during this trip are the starting point for the three large format paintings (indian ink and gesso on bitumen paper) now shown at CEAC.
www.bartdrost.nl
Zhixing Jia (CN)
Zhixing Jia tried to feel the breath of the city Nijmegen. He grew up in a very tradition Chinese family, with Chinese family education. When he visited Chinese children at their Dutch adoptive families, there where a lot of questions: he wanted to feel their habitat, their atmosphere and family education, their way of life. He wanted to know their experience, their interests, study, and habits. Of course his camera was with him. Then- fast fast- he took some pictures following his first feeling. And the answers became clearly. This approach is very different from the way Jia Zhixing worked before. At the MAAS Final Presentation he showed us pictures he made of adoptive families and a selection of the hundreds of photos he made during his many wanderings through Nijmegen.
Wei Na (CN)
"There is a lot about myself I don't understand, and quite frankly, don't want to understand. I know I should think more, but doing is easier. I want to have a car, but a bicycle is more convenient. I want to be happy, but I know happiness makes you stupid. I know I should do something worthwhile with my life, but I don't have time, I have to be hurry now, I have to catch a train… So I feel like somewhere in between, in between looking and not-looking". At MAAS Wei Na showed an installation work with 12 new short movies. Combined China and Holland, photography, video and text. Being a Chinese artist seems less and less important to her. The artist is more than a product of society. Art is universal.
Rui Tian (CN)
Rui Tian workperiod at MAAS was about 'Communication & Meeting'. Thrown between China and The Netherlands she also visited Brussels, Paris, Barcelone, Milano and Frankfurt. The impressions of these journeys she shows us at her MAAS-blog. During the Final Presentation Tian looks for the limits of freedom. It was the true spectacle as promised. In this presentation, Tin almost literally took the concept frontier as an intervention in the space: visitors had stooped the entrance to get inside; once inside nigh invisible lines crossed the space. In a touching speech Tin told the visitors of her trials and tribulations during her residence period.
Sayaka Abe (Japan)
Sayaka Abe and Rui Tian met each other for the first time in 2008. At that time they took part in a group exhibition in Xuzhou, China. Since 2005 Sayaka is staying in the Netherlands, she studied at the Gerrit Rietveld Academy and the Sandberg Institute. The current MAAS Artist Rui Tian invited Sayaka to be the guest artist for the MAAS In Between and they decided to do the project together. When Rui Tian is in The Netherlands she feels she is really a Chinese. When Sayaka is in The Netherlands she feels she is really a Japanese. It's the frist time both artists do a project together. They try to combine everything together. They started at MAAS their Chapanese Restaurant for just one Sunday-afternoon.
www.sayaka.nl
Gallery