December 15 at 5 PM, 2012
December 15 till 29, 2012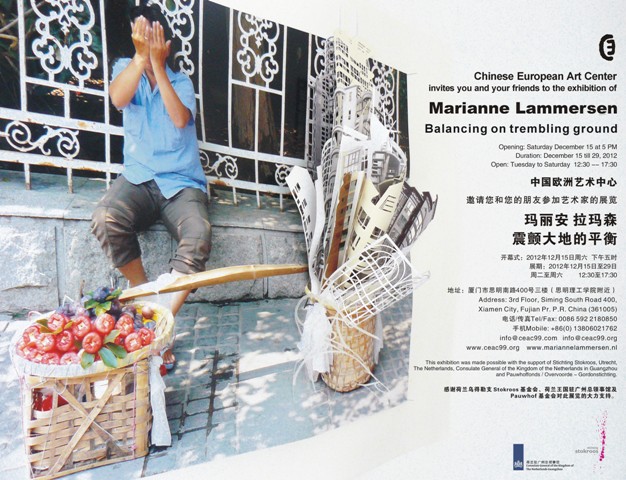 Marianne Lammersen is intrigued by the tension caused by the growth of technological development on one hand and the maintenance and preservation of human identity on the other hand. In her installations and collages, she creates a break in the daily hectics of the modern world, a meditative moment, in which the viewer contemplates himself, and is challenged to question his position in the continuously ongoing technology that surrounds him.
During her stay at the Chinese European Art Center she has been questioning herself: How does China balance, as it seems this country has one foot in tradition and history, and one foot ahead in technological development and the future. She made an installation, in which a bike with sidecar balances 15 buildings, made from porcelain, being hold by bamboo-constructions. In the work she plays with contrasts such as speed – delay, future – tradition, high-tech – low-tech. All stages of the ceramic process are visible in the final result, telling that our building drift is a non-stop movement, and different stages of construction are always visible around us.
Next to the installation she shows collage works. One series is a continuation of a photo-project that started in Amsterdam. A camera-lens, blown in the shape of the house of her parents, is the tool that she used to take pictures of an environment that she found it hard to relate to. Looking through this camera, firm lines and colors that usually clarify their function are being vanquished by spontaneous curves and color dots/spots, changing her surrounding in a surreal, dream-like world. In Xiamen she continued this project, taking photos of her new living environment. She turned them into collages, combining the pictures with paper-cuts. The question asked is; How to relate to and how to grasp a surrounding that is changing in high-speed?
In other collage works she is more focused on idea that in our flow to technological development, we might run over small things that make life valuable. Those are matters that have not our direct economic interest, but once it's gone, we notice we lost some color of society. In this context she uses the cut-outs of the paper cuts and the back of embroidery and gives it a meaning in her work.
All media she used, using the back and front of embroidery, the paper cuts and the cut-outs and the use of the mold next to the final porcelain shapes in the installation, all include the principle of balancing; the positive and the negative, a theme that has a long tradition in China, but is still up-to-date.
To produce her work and to be inspired she worked closely together with local craftsmen, like a porcelain factory in Dehua and a professional paper-cut craftsman. Working in media that find a strong Chinese tradition allowed her to get closer to the society that has been her home for 4 months, and made it easier to balance on the trembling ground of China.
(Marianne joined the exhibition Rolling Snowball/3 in Guangzhou and gave lectures at Xiamen University Tan Kah Kee College Art and Design Department, and the Art College of Xiamen University.)
This residence/exhibition is made possible with the support of
– Stichting Stokroos, Utrecht, The Netherlands
– Consulate General of the Kingdom of the Netherlands in Guangzhou
Gallery