Saturday May 7 at 5 PM, 2019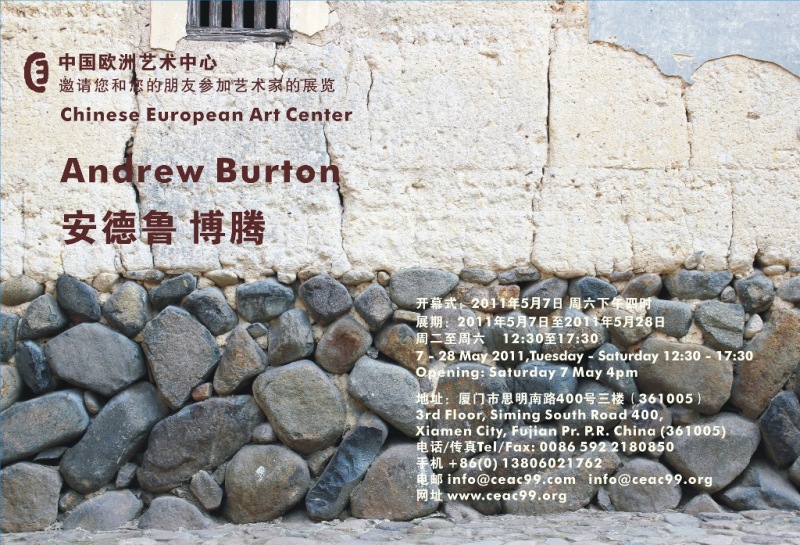 UK Sculptor Andrew Burton has worked in Xiamen to create a new exhibition of his work currently on view at the Chinese European Art Centre, 7 – 28 May.
Burton's work is a response to the immediate material world around him. He uses objects that come readily to hand; found on the beach or bought in the local shops. These become starting points for sculptures that invite the audience to consider the poetic possibilities of everyday objects.
The largest work in the exhibition, 'Tierra del Fuego' ('Land of Fire') is constructed from thousands of brick pebbles. Each day as the tide retreats over Xiamen's beaches thousands of tiny fragments of ceramic brick and tile are left washed up on the sand. Worn smooth by the waves, these man-made stones suggest the existence of an older city constructed not of glass, steel and concrete, but of brick and tile. Now consigned to the sea, its buildings are washed and pounded by the waves until its fabric is ground with the shells and stones on the ocean floor and becomes sand.
Tierra del Fuego was the name originally given to the remote and unknown land at the tip of South America, where passing sailors could see mysterious fires burning. In the sculpture, the inspiration has been both romantic legends of lost cities, but also the view over the sea from the artist's balcony in Xiamen where chimney stacks on the mainland are visible. This fantastical creation is a reminder of the passing of time and the strangeness of 'other places'.
As a foreigner visiting Xiamen for the first time, Burton is fascinated by the obsessive sweeping and mopping in the city. Everywhere brushes are for sale and mops are hung out to dry – sometimes in the strangest of places. To Burton these everyday objects have an unfamiliarity and beauty and can seem like works of art in themselves. In the 'The Last Manchurian' a collection of brooms, mops and cane are constructed into a work that both suggests a narrative and forms a contemporary 'still life'.
Gallery