March 26 till April 2, 2011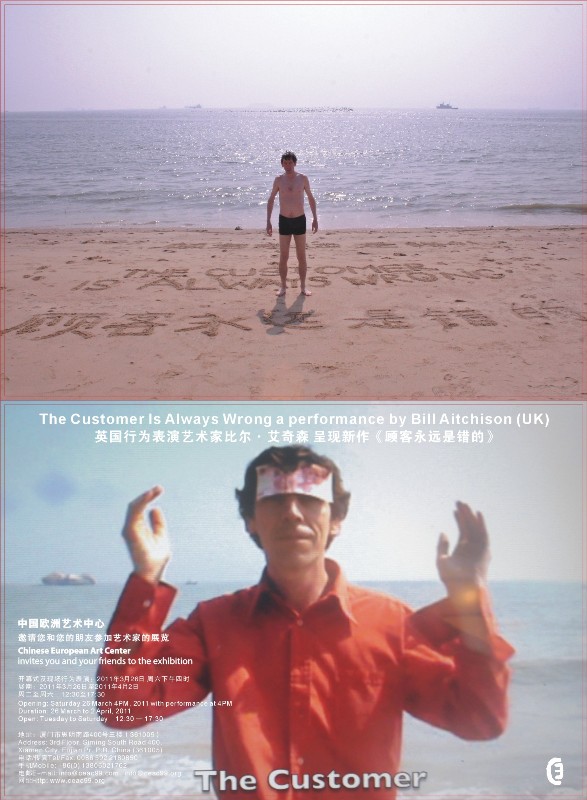 One of a kind British performance artist, traveller and all round professional eccentric Bill Aitchison, has been an artist in residence at CEAC for the last three months and has been making a new work titled 'The Customer Is Always Wrong'. For this work Bill has been learning Chinese to understand how the British (i.e. Bill) can be perceived by the citizens of Xiamen. From this experience he will present a new performance and solo exhibition of imperfect translations, misunderstandings and insights into 21st Century identity confusions.
Preview Video: http://v.youku.com/v_show/id_XMjQ3NDcwNTA4.html
Blog: http://www.a-n.co.uk/artists_talking/projects/single/704529
Bill Aitchison is a performance artist who has shown his solo performances and videos at theatres, festivals and galleries across Europe, Asia, The Middle East and America. He has spent extensive periods in New York's downtown experimental theatre scene and the European performance circuit working as an artist, writer and performer, he has published critical and creative texts and has a PhD on performance art from the University of London. He has previously shown his performances in China in Beijing (OPEN Festival 798 Art Zone) and in Xiamen at CEAC.
Created at The Chinese European Art Centre (CEAC) Xiamen.
Supported by The British Council China and Arts Council England.
Gallery