Saturday July 9 at 4pm, 2011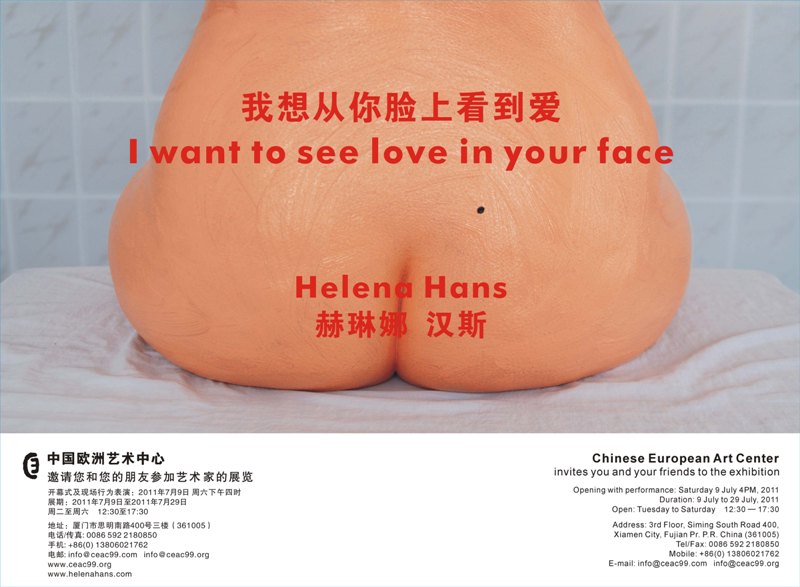 On July 9th at 4 pm The Chinese European Art Center opens the exhibition: "I want to see love in your face "by the Icelandic artist Helena Hansdóttir.
Helena Hansdottir has been, and still is, staying on the CEAC Artist in Residence program where she made the works for this exhibition which consists out a photo installation, sculpture and a performance.
Helena studied art at the Icelandic University Art College where she graduated with a BA diploma and later she studied at the London based Art Academy Goldsmith where she graduated with MFA diploma.
In her work Helena concentrates on her individual view on phenomena which affect her personal life and which are at the same time woven into her own existence. This doesn't at all mean that she is not interested in other people's life.
Many of her other works involve other persons with their own minds and opinions which she uses as an ingredient in her own artwork. In her life attitude she is a modern feminist and this feminism is forming her way of thinking, also in her artwork, even though the evidence is not literarily to be found in the artwork itself. She is interested in folk cultures and all kinds of traditional appearances in these cultures. She gets her inspiration by the human nature.
One should not approach the works on this exhibition by looking for the meanings of the artworks. Much rather one should experience them in the same way as one listens to music and afterwards every one can, individually, find out what kind of meaning he or she has been experiencing.
At the opening Helena will do a new performance.
The duration of this exhibition is from July 9th – 29th.
The month of August the CEAC will be closed for summer holidays and will open again after the middle of September.
Gallery