Saturday November 12 at 4pm, 2011
November 12 till 25, 2011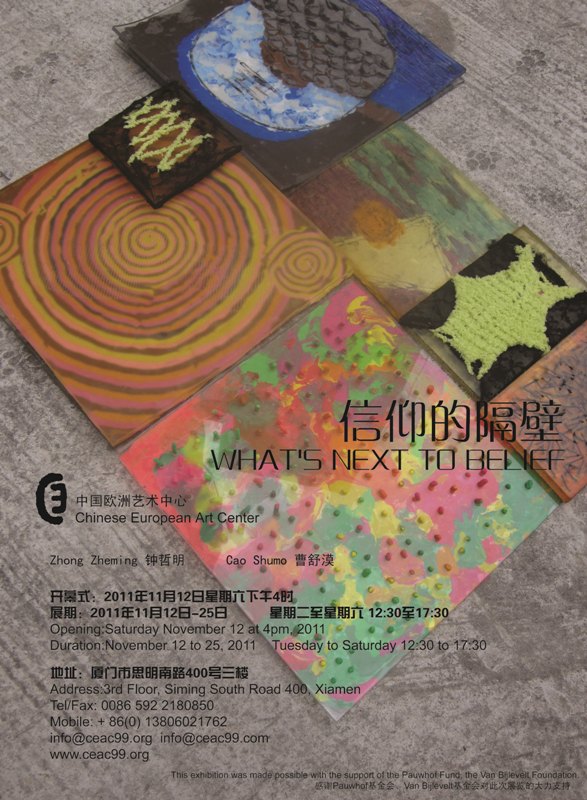 Zhong Zheming
As a developing country, China has been experiencing the process of destruction and reconstruction, which seep into politics, economics, culture and life. You can always find the Chinese character 拆 which means demolish on the wall of some old buildings in the street. Disregarding the meaning of the word, it's akin to graffiti both in its media and forms, Despite this, it possesses a powerful force in the real world, which graffiti doesn't have, and this implies certain action will occur. Yet this powerful force only works in the specific context. If the context is replaced by another one, it will be nothing but the graffiti exhibits by another media.
Cao shumo
I tend to discover inspiration from tiny or neglected things, I try to break that inflexible cognitive models. In this work, I use various soft materials, and make plates of different sizes by carving, burning and weaving. The changes caused by interaction between objects become very important. Soft and hard, fuzzy and clear, destruction and reconstruction, physics and fantasy, private and public, I attempt to seek for contradiction and connection from behaviors that seem to be random, and reconstruct a new way of communication and aesthetics by using personal and nonsensical narrative.
This exhibition was made possible with the support of the Pauwhoffonds / Overvoorde-Gordonstichting, the Van Bijlevelt Foundation.

Gallery