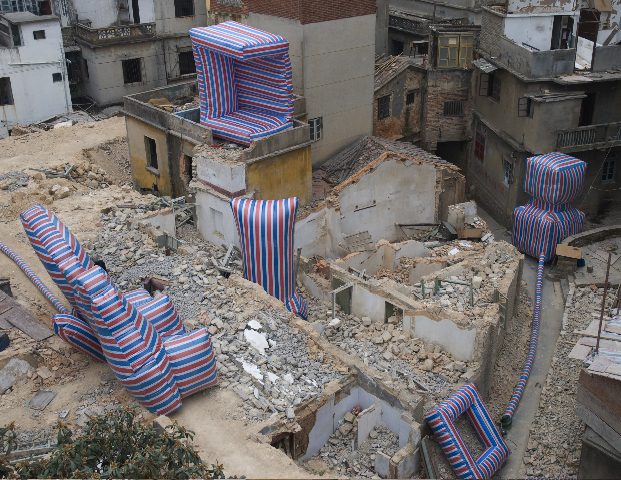 Artists Kaleb de Groot and Roosje Klap are closing their four-month residency in China with an exhibition and a book-launch at the Chinese European Art Centre (CEAC) in Xiamen, under the title 'Exquisite Gunpowder 16 City Shot', referring to the always fantastic names of
fireworks and its' awkward Chinese translations, as well as the amount of weeks they have stayed in China.
This project focusses on the idea around implosion and explosion, producing broadband ways to freeze-frame explosions in the most physical of forms. This is resulting in the presentation of a very special 'artist-book' and a site-specific installation at the Chinese European Art Centre in Xiamen.

They were both struck in different ways by the rigourous ways of the cities' new floor plan, demolishing beautiful authentic city along its hungry way. For the installation at the CEAC Kaleb and Roosje have researched ways to make fast-growing mixtures and inflatables that
literally blow up or down in size. These spatial studies are referring to the frenzy in modern (Chinese) architecture: after the construction these sculptures are rearranged in a new order at the Art Center, to create both a floorplan and installation at the same time.
The book on the other hand will focus on the kaleidoscopic translation of the general concept of 'EGC16S'. The book holds two especially designed pop-ups: explosions in paper. Furthermore, photoseries of their Xiamenese site-related outside event 'Blowing up in Public' is featured as well as drawings and other photographs. Kaleb and Roosje have also asked no
less then four internationally acclaimed writers to contribute for the book: fiction-writer Nina Thibo (NL), war correspondent Joeri Boom (NL, chief editor for 'De Groene Amsterdammer', Dutch opinion magazine), and curators Huib Haye van der Werf (USA/NL) and Florian Wüst (D). All texts are completely translated in Chinese. The book is published by Revolver, archiv fur aktuelle kunst, ISBN 978-3-86588-458-9; 128 pages, 285×210 mm, hardcover, sewn.
During their stay they kept a weblog on their findings in China as well as the work-process, images and the project-description in full and more information about the artists is also to be found there. You can find a link to this weblog via www.kalebdegroot.nl and www.roosjeklap.nl (English)

Both project and publication are made possible with support of The Netherlands Foundation for Visual Arts, Design and Architecture www.fondsbkvb.nl
Gallery