April 13 till May 6, 2007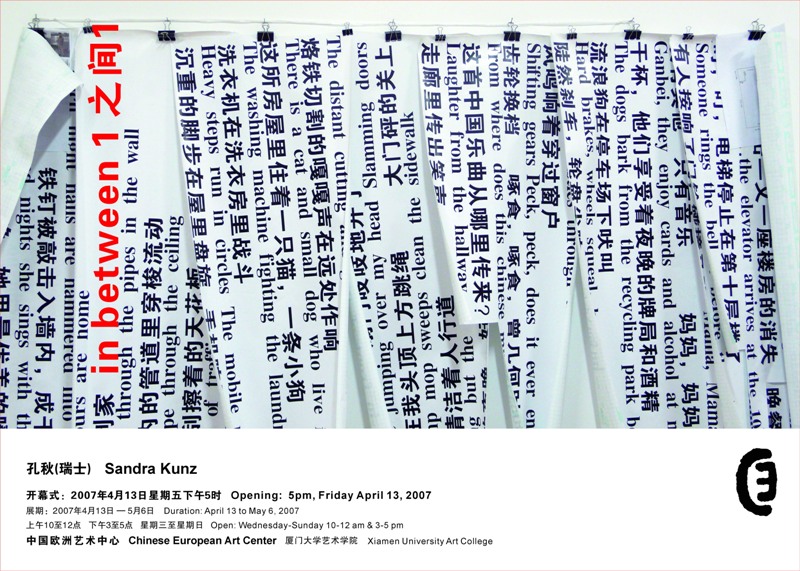 For the Swiss artist Sandra Kunz her six-month residency in Xiamen has involved capturing sounds, movements that have flooded her imaginative mind and experiences on a rapidly-changing foreign land. Various sounds and rhythms collected in the once-vibrant old neighbourhood document the on-going changes of the city. Her photographs of the semi-demolished structure of old houses unfold before us, evoking an eerie beauty like that of a barren winter pond.
Texts in a box visualize and intensify moments of the artist's day-to-day life experience. Easily ignored objects such as laundry and plastic bags are transformed into fascinating ever-moving kaleidoscopes. The whole exhibition is about encapsulated moments of the artist's life experience whilst in Xiamen, moments that come and disappear (go); the transient life cycles and the hidden beauty of the ordinary.
Reading the flying texts on the wall in the sound box, you find yourself listening to the artist's racing mind whisper, witnessing her life on the tenth floor. Fleeting life is seized and sealed in the box. Just like any other modern creature that lives lonely in the matchbox buildings, your senses become intensified in the isolation of the box.
Gallery