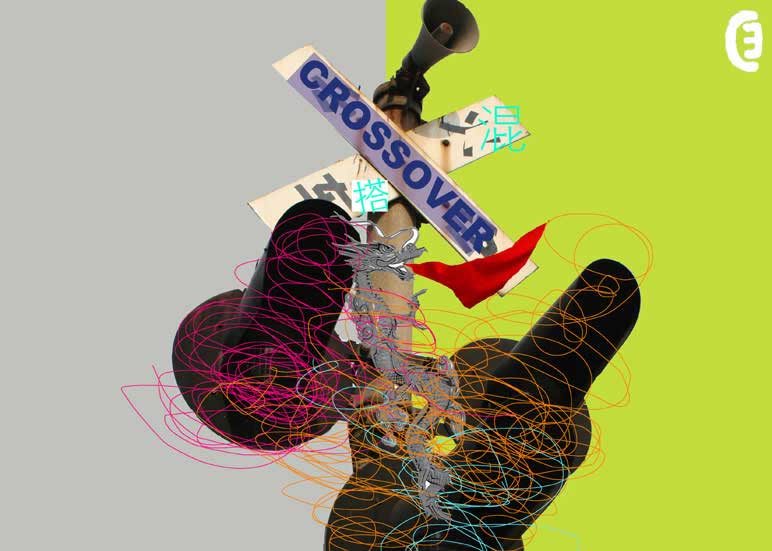 The Mix & Match exhibition showcases photographs, video and installation work made by Chinese artists Cao Minzhu, Liu Fang, Min Lan, Wei Na and Yang Jian. As a popular way of living and attitude of life, Mix & Match influences everyone in today's life. These five young artists hope to express their different understandings towards Mix & Match through this exhibition. Their focus and ways of expression themselves may have expressed possibilities and vitality of Mix & Match. Mix & Match not only shows works of individual artists, their dressing behavior also fully expressed the charm of Mix & Match.

Cao Min Zhu's work Double Happiness is an installation posting Double Happiness the Chinese folk symbol on the wall in the form of a red cross to mix & match. What echoes it is various wedding food for visitors to taste. When the exhibition is finished the sweet food is finished and only the red cross on the wall is left. This work shows the audience that life is art and everyone can be artist. Art is left after exhibition; the consumption and its process are also art.

Liu Fang: Like a paradox, Mix & Match itself has various unreasonable elements in it but often results in reasonable results. The "person" in the work took photos in various different places, mixing and matching his own images on different backgrounds. What was his purpose when having his photos taken? What was the purpose of traveling? But very often tourists forget the process of traveling and take the action of taking photos as purpose of traveling. This kind of behavior appears to be very empty to me. The black color on the picture seems to express emptiness under the abundant surface of current society.

Min Lan: Women's life is always surrounded by a big pile of objects: unused cosmetics, books read or unread, clothes worn or not worn and the other known and unknown. When they are presented before you in a Mix & Match form or when I present my life in this way, this is what I understand about Mix & Match.

Yang Jian: In my opinion Mix & Match is a cross-border expansion. Expansion means that explosion of irresistible force makes stableness of any borders impossible. Therefore materials become very important: then I found it and used it to make a series of light trials under such powerful theme. Comparing with the content it expresses, what makes me more fascinated is the way of operation and the process of making it. Maybe to a certain extent, this is where the charm of Mix & Match lies.

Gallery