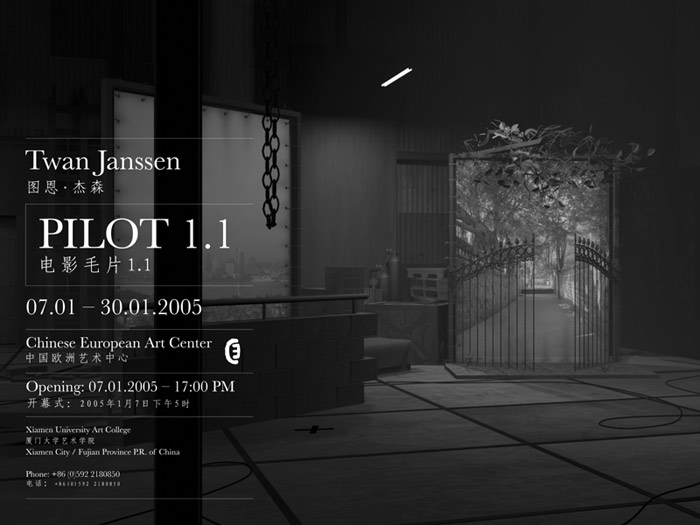 For many years now, Twan Janssen presents himself as an actor who plays the artist Twan Janssen. The paintings he makes are props in the play of his career, and the gallerist, critics and collectors are co-actors in this ironic play, where the distinction between fiction and reality is often unclear. In the Chinese European Art Center at the Xiamen University, Twan Janssen will show a screening of 'PILOT 1.1', a computer animated video in three parts. The videowork is entirely made in the three month period that Twan Janssen has been staying in Xiamen as an 'artist in residence' of the CEAC, and is also in part a fictional reflection on this stay.

'PILOT 1.1' is a video about the of the fictional character Twan Janssen, who is staying as an artist in residence at the CEAC in Xiamen, when he is invited by the London-based Artspace 'The Centre of Attention' to do a show there in 2005. As the video proceeds, the artist becomes more and more anxious about the fact that he doesn't seem to be able to come up with ideas for new work, airing his doubts and apprehension in e-mails written to Pierre Coinde, the founder of the London gallery.

In the entertainment industry, a pilot version of a tv-series is often used to test a format on an audience, so the title of the video suggests the possibility of a real movie about the life of Twan Janssen being made in the future. In the meantime however, the artist will be adding scenes to the movie as time progresses.

'PILOT 1.1' at the CEAC is the second installment in this series, 'PILOT 1.0' was shown at Galleri Flach in Stockholm in May 2004, and 'PILOT 1.2' will be shown in a solo exhibition in September 2005 at The Centre of Attention in London.

Gallery