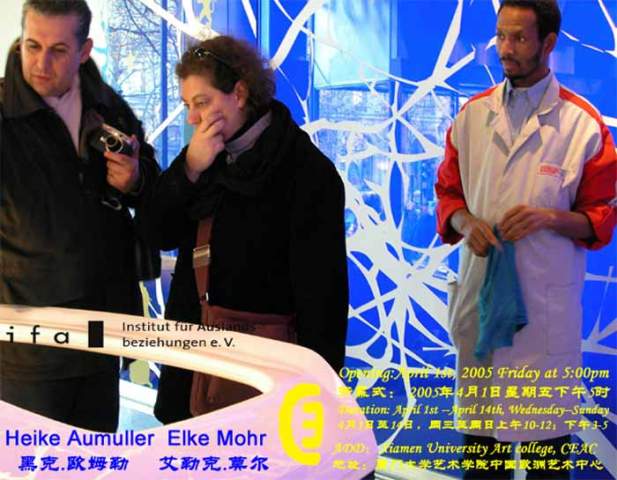 "Wth the advent of postmodernism, the gallery room is no longer'neutral". The wall becomes a membrane, where the aesthetic and economic values transfer through osmosis… The whitewall belongs to the image of society, where it is the ideal project on screen of our paranoia." After Brian O'Doherty, "Inside the white cube"

In the exhibition at the Chinese European Art Center, Elke Mohr is engaged with numbers and percent sasa crossover to the accelerated exchange of commodities. Her install at on reflects the context of the gallery space, the artist's role and the we stem media frenzy for China, which is characterized as the "land of superlative".

"Brightness" works with a pari ally reconstructed narrative framework. Three protagonists gest iculate within a barely furnished room, each of whom are at different stages of completing a transformation. Through the manipula ton of the fim the protagonists appear alienated, the picture is fragmented and drastically reduced in speed. The pictures appear and disappear as afi owing sequence from a single brig th ness. This appearance and disappearance of the images, linked with the fractured narrative, create a more or less catastrophic dimension, with an intensity that enfolds and increases as the soundtrack develops.

Gallery