September 9 at 5 PM, 2005
September 9 till 30, 2005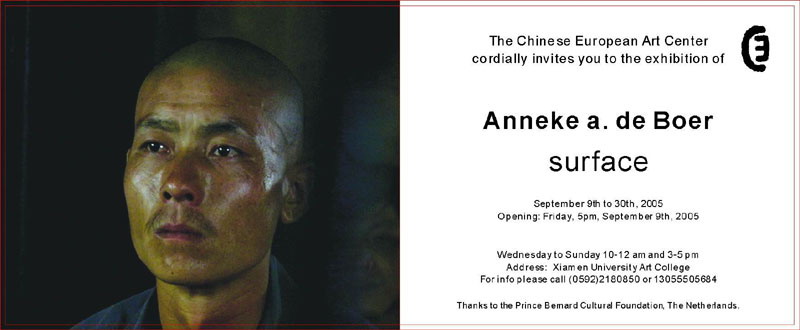 The Video and Photography works from Anneke her exhibition "SURFACE" has been made in Xiamen.

The moment when Dutch artist and photographer Anneke a. de Boer stepped out of Xiamen Airport on June 30, 2005, she never expected that soon she would walk into places of ordinary Chinese people, and work very closely with them.

Anneke was immediately fascinated by the night scene in Xiamen . Watching TV was a very important part of night pastime for lots of people. Also she did discover the strong bonds among the family through the universal act of watching TV, fascinated by the idea of family and people being together in a space and separated by concentration strongly influenced by their own experience.
In her exhibition "SURFACE", she did discover surfaces that we all never see and made the perspective obvious.

In her work is displayed the complexity of discovering inner world and the fascination of experiencing the inner world from different perspectives. In front of the TV screen, she felt the inner world of these people and set out to capture evanescent flow of emotions and hidden sentiments of these people as they bathed in the light of their TV screens.

Her conceptual photos follow a special cinematographic form and have framed many moments of people's trivial inner changes. But these moments aren't totally independent from one another. Gaps among photos are filled and united by viewers and thus prompt spectators to experience the documentary scene that happened only at special moments.

In her photo series context is usually absent but images are strong, bold or emotional, which make viewers feel connected and stimulate curiosities from viewers as they try to understand what led to all these dramatic inner changes.

Gallery