December 18 at 5 PM, 2009
December 18, 2009 till January 7, 2010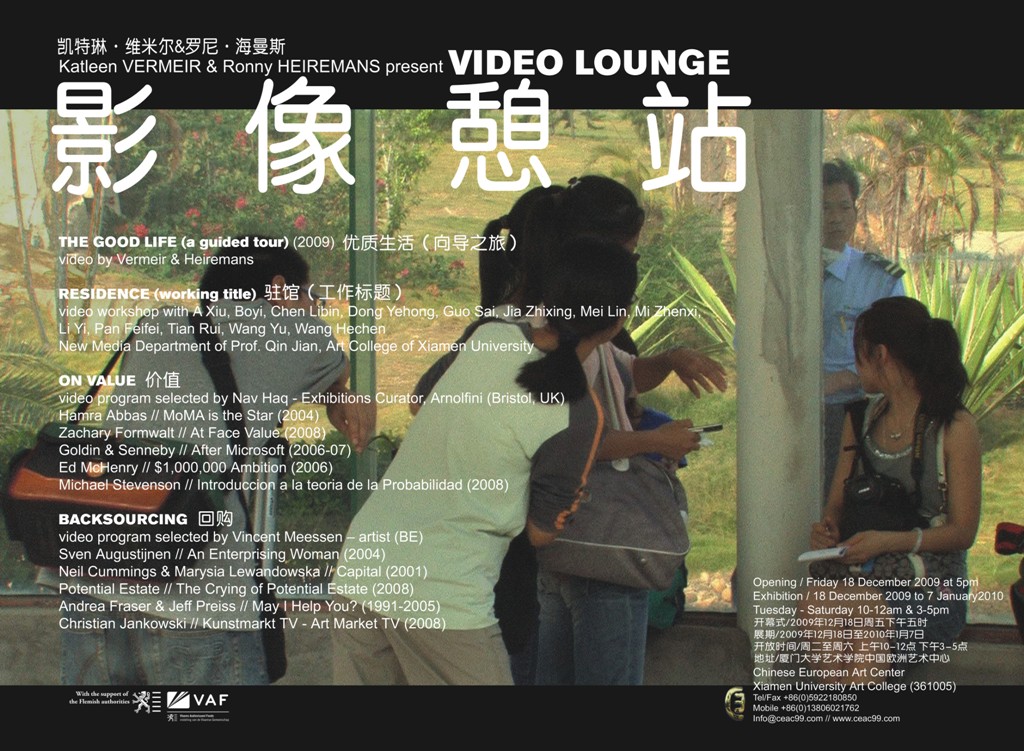 CEAC is happy to invite you to VIDEO LOUNGE, a platform for exchange by Belgian artists Katleen Vermeir & Ronny Heiremans. VIDEO LOUNGE allows both artists to present part of the research they have been doing in Xiamen for their new video project, RESIDENCE (working title). The research itself is a continuation of their investigation into the intricate relations between art, architecture and economy, which featured in their previous film, The Good Life (a guided tour), also on view. VIDEO LOUNGE elaborates further on this theme in two screening programs – ON VALUE and BACKSOURCING -, which the artists invited Nav Haq and Vincent Meessen to put together.

Katleen Vermeir & Ronny Heiremans
The Good Life (a guided tour), 2009, 16min
"A unique proposal for those who conceive their life as a work of art." This recent video by Heiremans & Vermeir is a meditation on the inextricable relationship between institutions of contemporary art and the wide structure of the economy, harnessed today by the 'creative class'. The video takes the form of a virtual guided tour around an ambiguous contemporary art institution, in a future scenario where it is selling off its building to be transformed into luxury apartments. The depicted institution (itself an uncanny 'collage' of four existing major European institutions), for an unspecified reason, is utilizing its assets, promising major regeneration to its host city. Get a full tour – get a taste for 'The Good Life'.

RESIDENCE (working title)
A video workshop with A Xiu, Boyi, Chen Libin, Dong Yehong, Guo Sai, Jia Zhixing, Mei Lin, Mi Zhenxi, Li Yi, Pan Feifei, Tian Rui , Wang Yu, Wang Hechen – New Media Department of Prof. Qin Jian, Art College of Xiamen University.

RESIDENCE (working title) is part of A.I.R, an ongoing project Vermeir & Heiremans have been developing since 2006. Encompassing various collaborations in different formats, A.I.R examines architecture as a significant ideological gesture.

The result of an intense workshop with a dozen of students of Xiamen Art College, this phase of RESIDENCE (working title) presents itself as a video set of three narratives all generated from the same source material. Focusing on the identity of a group of young people, each of the three narratives allows for different details in the story to take prominence. RESIDENCE (working title) offers a prime example of the potential for collaboration, while in the process engaging with all literal and symbolic forms of translation.

Gallery