April 16 till May 8, 2010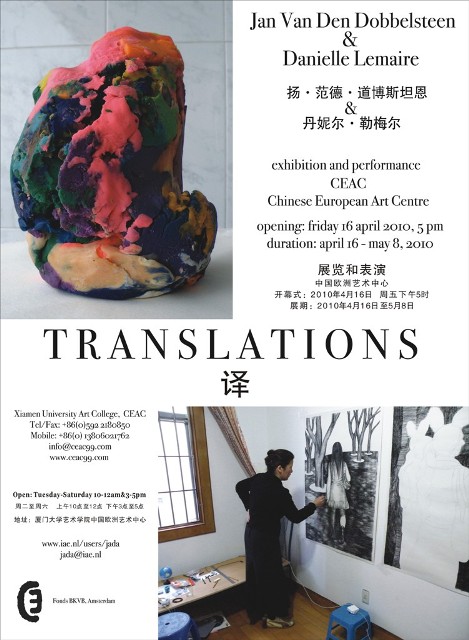 Exhibition 'Translations' in search of the Philosophers Stone" is the title for Jan Van Den Dobbelsteen's project in his recidency at the Chinese European Art Center.Made possible with a grant from the fonds bkvb Amsterdam The Netherlands.

A search for and finding Tao (Dao)-influences in daily life in today's society in China Xiamen City, one of the first free developing cities in China. Jan Van Den Dobbelsteen is a multi media artist from The Netherlands. Exhibited-lectured –performed and curated exhibitions in Europe, The USA and Asia. Professor of multi media art at the Avans and Fontys universities in The Netherlands.

My goal is to create freedom in research and Art practice starting from the idea 'Art is not what it is". The visual and audio output like composition techniques, recording and editing methods and persistent refinment and redefining of the visual as well as aural goals helped to define a body of work for this 'translations' exhibition.

You can expect sculptures, a painting, textworks, a film,s everal audioworks and for this ocasion a specialy produced book with cd's " Useless Stones ".

All for you together with artworks from his wife Danielle Lemaire in one total installation "Translations" .

For the exhibition "Translations" that Danielle Lemaire makes together with Jan Van Den Dobbelsteen at the CEAC in Xiamen, China, in the workperiod 15 february – 15 may, she realized, new charcoal and pencil drawings and a series of photoworks. next to that she realizes a special performance for the occasion, together with 6 international female students, about female identity and language.

She asked the girls to wear high heels and they will speak and sing live through a headset microphone with an amplifier attached to the belly, moving in and out of the artspace. Such headsets she has seen used by sellers in several shops in the streets of Xiamen. It occured also to Danielle that a lot of Chinese women wear (very) high heels, on which they shop and carry heavy shopping bags a long way, carry children on the arm, walk on the sand at the beach or climb the rocks way up high at a Buddhist temple. She thinks that it is remarkable and typical that these women don't show pain or exhaustion from it and wonders if the high heels represent a certain pride or self-confidence.

Danielle's performances are never the same; when she performs, most of the time she brings songs and sound-landscapes based on personal stories, in a specific time schedule. Lately she sets up specific performance events in which female artists / musicians bring performances based on her investigation of the phenomenon of female identity in public space.

For this exhibition Danielle publishes a book "Aerials" with photos of drawings dated 2007 – 2010 and photos of all kinds of antennas- aerials- that make the cellphone communication possible in Xiamen.
Gallery