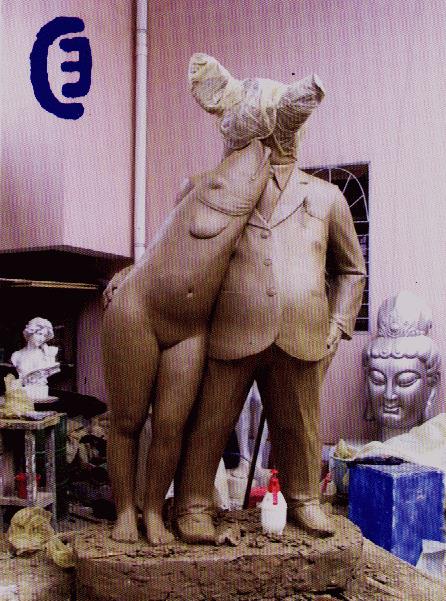 Chen Wenling has been working in Xiamen for many years. In 2001 he took part in the Ship-Xiamen Modern Art Exhibition with his work "Red Boys" the side was the beach of Xiamen City. This sculptures were a great number of boys whom he portrayed in scarlet colour. The "Red Boys" sculptures has also been selected as the most fevered work by the audience of the Chinese Sculpture Masterpieces Exhibition of the Beijing international Biennale.

Right now, another interesting sculpture is being presented in the Sculpture Park in Xiamen as part of the Xiamen "Sea and Music" International Sculpture Exhibition.

The CEAC is proud to present Chen Wenling's new sculptures which he calls "Happy Life". In his new work Chen Wenling has a critical look at the meaning of "Happy". All these powerful figures represent a special group of people in China's society. Those people who became the new rich because of the economical development in the nineties. But are they happy with their new successful life?

For Chen Wenling the meaning of "happy" has changed again and again in the history. But most of the time it was connected with power and money. People seem always to strive for a "Happy Life". These phenomenons exist in all cultures. Another global phenomenon is that these rich people seem to feel bored. After becoming rich they try to find their happiness in adventures and suggestive sensuality.

Consequently the dog, the pig and the fish – women are not necessarily simple animals or a super- realistic women in his opinion.These creatures could rather represent those, who erase their dignity or self-respect to please the rich people for a more comfortable life?

Do they want to become a member of the modern society?
The ten pigs and dogs standing around the woman and the man?
They depict those people, who are not active participants yet. Striking are the retracting tails of the dogs. Are they embarrassed? Are they afraid?
Do they want to participate in the new living standard? The artist has left this open as well as other questions. The viewer is invited to make her or his own thoughts and imaginations.

Gallery