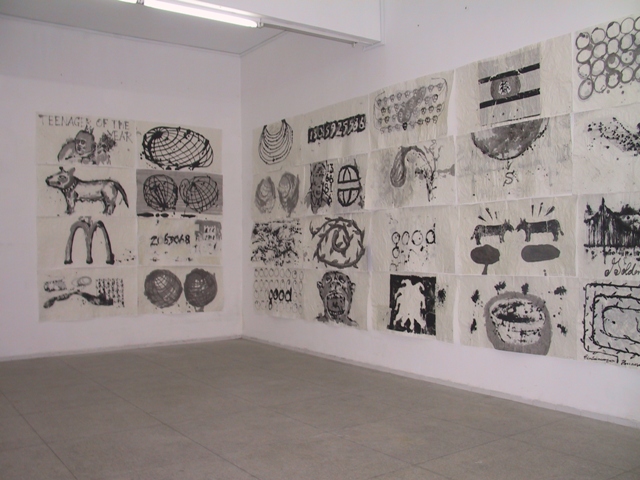 Hulda and Jón have been artists in residence of the CEAC this summer and this fall all of the art works on this exhibition are made during their stay here in Xiamen.

The funny title: A Flirting Rabbit comes from a little event when Jón was making the invitation card and asked me to take a picture of him on my balcony at my home. Immediately Jón was inspired by the look of the ceramic rabbit on my balcony and the title of the exhibition was born.

For both the artists Hulda and Jón it is significant to their art that they use small events from every day life to play an important role in their work. Hulda is making a rabbit here for the first time in her life and maybe the origin of that rabbit is the ceramic rabbit on my balcony. Jón is showing his 80 drawings, which he made when he was an artist in residence this summer. They deal with memories and they also express his feelings of being a foreigner in such a foreigner country as China is for him coming from Iceland a special reality.

It is interesting to investigate what happens when a person cannot understand the language in the place you are living, in this case Xiamen China, and for us the spectators it is interesting to see with our eyes what the artist has done with his experience.

Hulda's work relates almost always to human relations sometimes referring to mythology and the sea and fishermen and sometimes animals appears in her work like the rabbit here. Text always plays an important role in Hulda's work and the text most often comes from the daily life but when she has integrated the words and text into her art we are always confronted with a reality of many layers, that is what makes her work so interesting and because of that her work is exhibited here at the art center.

Gallery