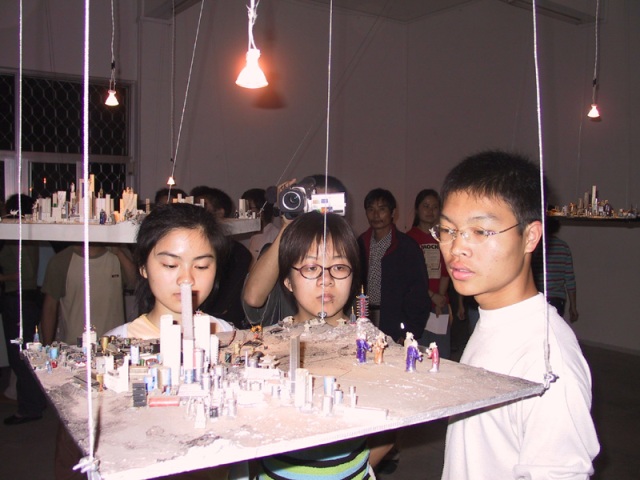 Chinese European Art Center invites you to a new exhibition of installations and videos Time Space & Me from the Chinese artists Wang Qiang, Gu Xiaoping and Gu Xiao jian, from April 5 through April 28, 2002.
Time Space & Me consists of installations and videos. The installations include cement, electronic components, glass and stone pictures. The installation artwork, consisting of over 200 bags of solidified cement, is placed in a rectangle shape. The rectangle is placed at where the two dagon also of the exhibition hall cross, and to couple it, a slope installation, composed of graphics and black stones from Xiamen, dashes to a corer of the exhibtion hall. A glass head sculpture is put in the opposite coner.
In the other exhibition hall is the installation My city My dream, which is composed of eight city models made by electron components. Kept in suspension by steel ropes, these models look like movable cities. The graphics how Hallucinogen City wil also be arranged in the same hall, at tempng to be interactive to My city My dream. Another installation consisits of 100 figure sculptures and their belongings. The artists have temperately damaged those pictures with flames when making the installation. There are two videos in the exhibition. One is called No, which is composed of pictures shot by a single lens. It reflects a youngman'sabre action when the pressure is beyond his endurance. As the artists once said, "I am always trying to show peoples complicated emotion in a simple space, so the contrast between the content and the form is sharply intensified." The other video shows overlapped several layers of pictures shot from a high place in the city, which portrait the crowed streams of people. The disorder lines sand uncertainty of the streams of people put audiences in the interlaced contingency and necessity. The video is named Eyes of
Paradise.
The three artists come from Nanjing. Their artforms include installation, videos and performance. They took part in the famous performance arts "Human VS Animals" in Qing liang Mountain, Nanjing. In 1998, they setup the working group "Post-idealism". Facing the coming new century, they threw away all their idealistic burdens and setup an art group "W&G" to carryout their project. To them, arts are things that happen right now and right here, manifesting the way they exist in the same time and space.
Gallery