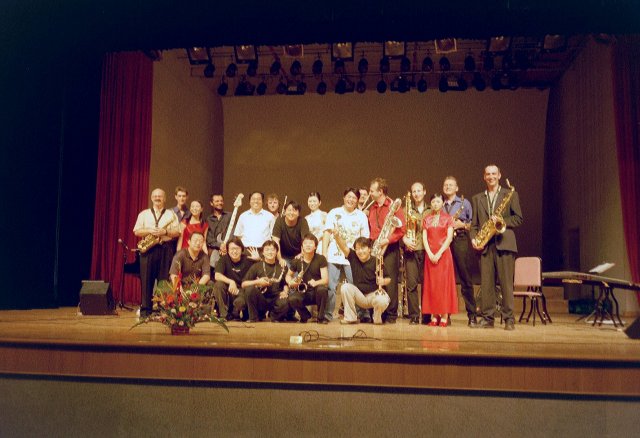 PAUL TERMOS- saxophone
Paul Termos was born in 1952 and studied at the Amsterdam Conservatory, including composition under Ton de Leeuw, from 1974 to 1979, Besides composing, he is active as a saxophonist and an improvisator and in this capacity plays in numerous ensembles including that of Maarten Altena, Guus Janssen and Misha Mengelberg. He
conducted his own ensembles and has been giving solo concerts since 1986. As composer he is garded as one of the founders of the so-called "New Simplicity" in the Netherlands. Among his best known works are "New Work", a concert for altosaxophone and orchestra,"Express" ar "Cammama" for which he was awarded a prize in 1985 by the Municipality of Amsterdam.
MARGO RENS-soprano
Margo Rens studied at the Utrecht Conservatory with Meinard Kraak and got her degree in 1991 She performed in numerous operas and operattas in the Netherlands and Germany. With pianist good press reviews. Composer Paul Termos dedicated his"Vocalise X"to this duo. Margo Rens is also active in ensembles such as "Termos Dubbel Express" which plays music on the edge of composed and improvised music.
WIEK HIJMANS- electric guitar
Wiek Hijmans was born in 1967. He studied guitar at the Sweelinck Conservatory in Amsterdam and the Manhattan School of Music in New York. In 1997 he was awarded the Andres Segovia Award. He plays in many different ensembles, such as the Maarten Altena Ensemble and TONK or as a soloist with De Volharding, Ebony Band etc. Furthermore he plays in improvised music groups. Many new works for electric guitar have been dedicated to him.
MARIKEN ZANDVLIET
Mariken Zandvliet made her debut as pianist when she was only 14 years old, playing as a with one of the provincial orchestras in the Netherlands. She studied at the Utrecht Conser with Herman Uhlhorn. She then studied chamber music and"Lied-accompaniment with Shetler at the Mozarteum in Salzburg. Since 1990 she teaches at the Utrecht Conservatory, where she is also correpetitor She performs in many concerts as accompanist or in ensembles such as the Boreas Ensemble and the Farrenc Trio.