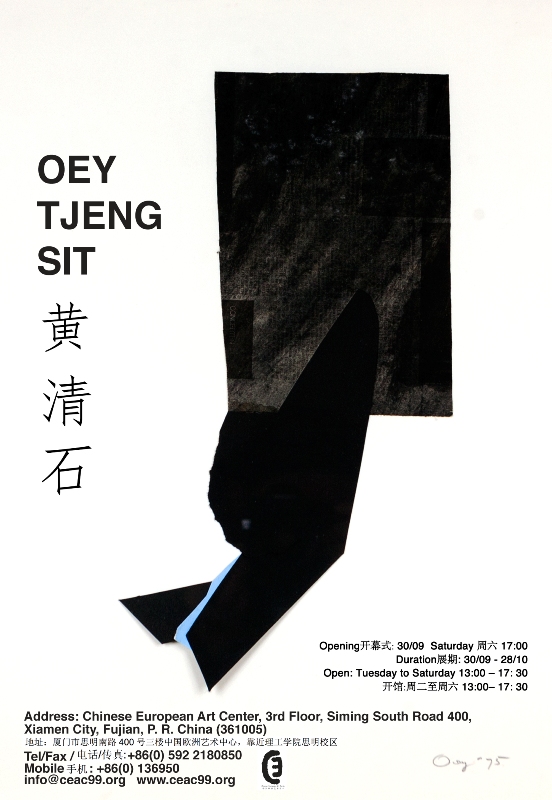 Oey Tjeng Sit, whose name means Yellow Clear Solid was born in Purwokerto (Java) at the foot of the Klud Volcano, that erupted just at the time of Oey's birth. Born in the Year of the Dragon he found himself released of the duty to take care of his parents; that is why – after visiting high school in Bandung – he traveled to the Netherlands in 1938 in order to study pharmacy. Twenty years later he opened Apotheek Oey (Oey Pharmacy) at the Prinsengracht opposite the Anne Frank House. He took away the pills and potions out of the window display and started a small art gallery there. One of his nicknames was a 'Dragon Man with a Dada Passion' who showed the art work of colleagues and friends which gave him another epitheton: 'the nestor of Amsterdam window art'. Oey's work as an autodidact is characterized by a wide artistic range of disciplines: after a period of surrealistic drawings and paintings he started making wood and linoleum cuts, collages, assemblages and editing books through his own editorial 'The Finger Press'.
In his collages, often together with Chinese ink and brush, as well as in his installations he used frequently news papers, of which he wanted to extend their short life, tied as they are to daily actuality. The newspaper was a source for many questions for Oey 'Can we measure the weight of printed news?' and 'What contains more wood than newspaper letters?' 'If there is an order, then is it a temporary one.'

Oeys oeuvre – light-hearted, playful with a subtle feeling for the hidden esthetic quality of daily life – can be a longlasting confirmation of these words.
Gallery