July 9 till August 28, 2022
ARS LONGA, Vogaland 5, 765 Djúpivogur, Iceland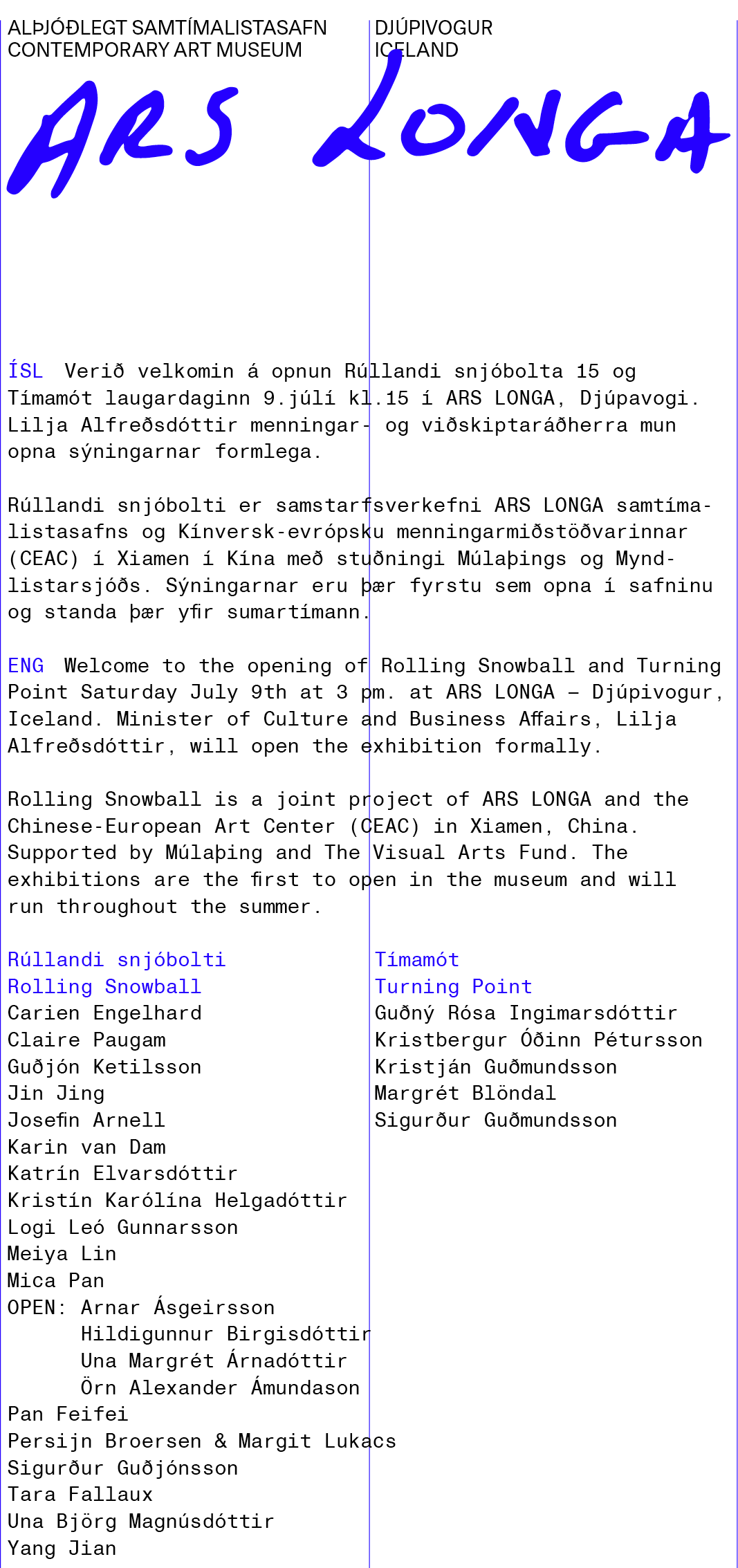 Artists:
Carien Engelhard, Claire Paugam, Guðjón Ketilsson, Jin Jing, Josefin Arnell, Karin van Dam, Katrín Elvarsdóttir, Kristín Karólína Helgadóttir, Logi Leó Gunnarsson, Meiya Lin, Mica Pan, OPEN (Arnar Ásgeirsson, Hildigunnur Birgisdóttir, Una Margrét Árnadóttir & Örn Alexander Ámundason), Pan Feifei, Persijn Broersen & Margit Lukács, Sigurður Guðjónsson, Tara Fallaux, Una Björg Magnúsdóttir & Yang Jian
Turning Point
Artists: Guðný Rósa Ingimarsdóttir, Kristbergur Óðinn Pétursson, Kristján Guðmundsson, Margrét H. Blöndal & Sigurður Guðmundsson
Curator
Hildur Rut Halblaub
in collaboration with:
Ineke Guðmundsson, /Senior Director CEAC
Kristín Dagmar Jóhannesdóttir, / Board member ARS LONGA
May Lee, /Director CEAC
Sigurður Guðmundsson, /Founder ARS LONGA
Þór Vigfússon, /Founder ARS LONGA
Design
Studio Studio
(Arnar Freyr Guðmundsson, Birna Geirfinnsdóttir)
ARS LONGA contemporary art museum opens on July 9th 2022 for the first time in its own building, which the municipality Mulathing donated to the museum earlier this year. We are grateful for this generous contribution.
The opening program consists of selected works from the ARS LONGA collection under the title Turning Point and Rolling Snowball 15, an exhibition where 22 artists from China, Iceland and The Netherlands show their works.
We would like to thank the Minister of Culture and Business Affairs, Lilja Alfreðsdóttir, for formally opening the museum and welcome everyone to celebrate this turning point for the cultural life in Djúpivogur, Iceland.
Sigurður Guðmundsson|Founder ARS LONGA
Rolling Snowball 15 is an international visual art exhibition which takes place for the eighth time in Iceland at ARS LONGA's new premises by the bay in Djúpivogur. The exhibition marks a turning point for ARS LONGA, as it is the first amongst two exhibitions at the museum.
This year, 22 artists are participating in the exhibition, 11 Icelandic artists and 11 international artists from Europe and Asia. The artists work with various subjects and media, including drawing, photography, painting, sculpture, and video.
Rolling Snowball 15 is a joint project of ARS LONGA and the Chinese European Art Center (CEAC) in Xiamen, China. Supported by Múlaþing and The Visual Arts Fund.
Hildur Rut Halblaub|Curator
Gallery