September 24 at 5 PM, 2022
September 24 till October 22, 2022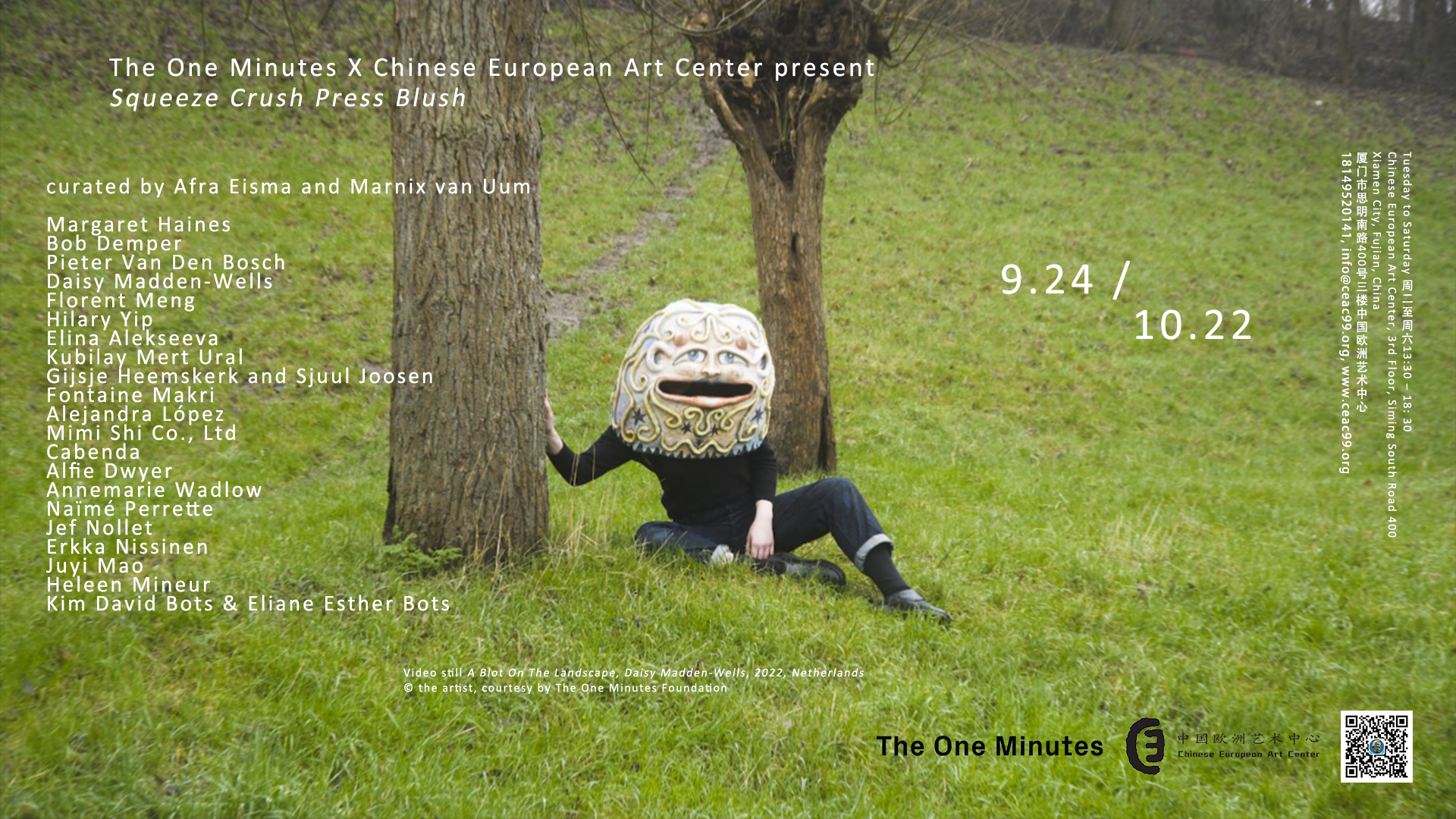 The installation of multiple screens will offer a kaleidoscopic whole, in which image and dialogue correspond in different contexts. The consciously created distraction will invite the spectator to move between the films and to extract a personal experience from the gained impressions. In this installation 'Squeeze Crush Press Blush' will offer a non-linear journey across a multitude of feelings.
In 'Squeeze Crush Press Blush', curated by Afra Eisma and Marnix van Uum, twenty-one artists and filmmakers invite you to take a dive into their ever-changing minds. A crack in the gloss, a break, a rupture, a split, a breach, a slit, a smack, a smash, a blow, a bang, a grin, our mind is a container. The selected One Minutes were sent in from China, Belgium, Finland, France, Greece, Netherlands, Suriname, Turkey, United Kingdom and United States.
Participating artists:
Margaret Haines, Bob Demper, Pieter Van Den Bosch, Daisy Madden-Wells, Florent Meng, Hilary Yip, Elina Alekseeva, Kubilay Mert Ural, Gijsje Heemskerk and Sjuul Joosen, Foteini Makri, Alejandra López, Mimi Shi Co., Ltd, Cabenda, Alfie Dwyer, Annemarie Wadlow, Naïmé Perrette, Jef Nollet, Erkka Nissinen, Juyi Mao, Heleen Mineur,
Kim David Bots & Eliane Esther Bots.
Afra Eisma (b. 1993, the Netherlands) creates intimate worlds bursting with colour and energy.
Her work consists of tufted carpets, ceramics, drawings, paintings and textiles that lead to
radiant tactile installations in which connection and generosity are central. She studied
Fine Arts at the Royal Academy of Arts, the Hague, and Central Saint Martin's, London.
She has recently shown work at Fries Museum, 1646, Vleeshal (all in the Netherlands) and
garden lab, Kyoto, Japan.
Marnix van Uum (b. 1991, the Netherlands) works with media (i.e. video, photography
and text) that have descriptive qualities and thus imply to depict (fragments of)
reality. He received his BFA from the Gerrit Rietveld Academie, as well as his BA
in media studies from the University of Amsterdam. Marnix has recently shown work
at the MACA Museo de Arte Contemporáneo de Alicante (ES); The Wrong Biennale
(Online) and Art Rotterdam (NL).
An open call inviting artists to participate in this project was send out by CEAC and The One Minutes.
Send in your videos and participate in the project!
http://theoneminutes.org/participate
Gallery