September 24 till October 22, 2016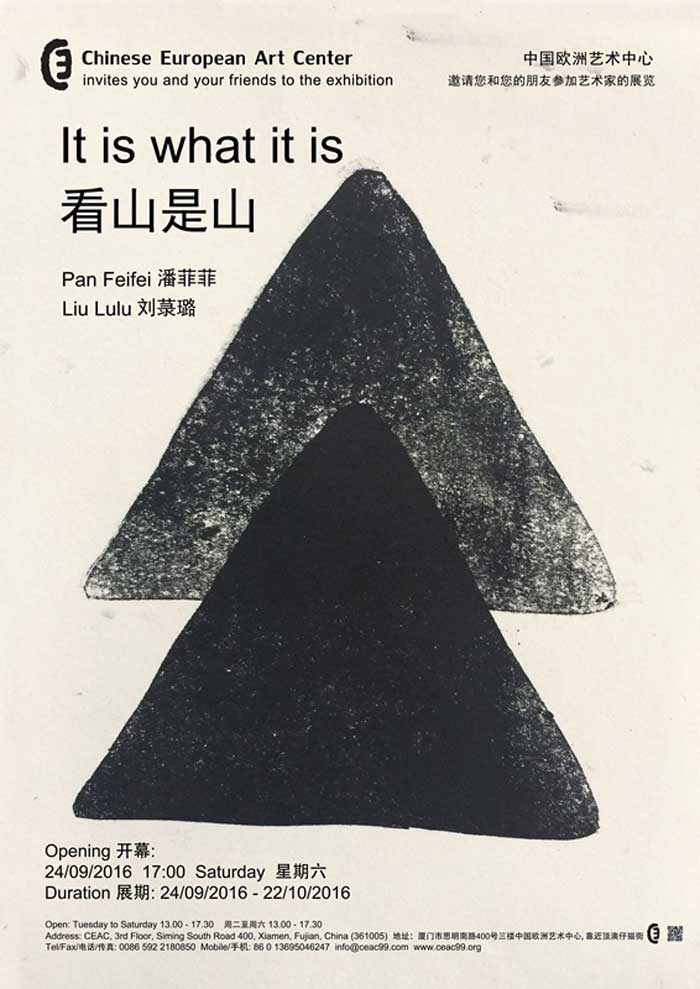 Chinese European Art Center is pleased to announce Pan Feifei & Liu Lulu joined exhibition It is what it is.
Pan Feifei was born in Shandong China. She currently lives and works in Xiamen. About her work in this exhibition, she says,
The black crescent moon gives out yellow light;
The elves are rambling along with the dark clouds;
The cactus ascends to a height and look far into the distance in its golden new outfit;
Two islands talk to each other in dense fog;
A low-spirited party for the geeks is taking place under the dull red night sky.

Going through the silent architectures, I experience strange things, people and events.
Liu Lulu was born in Ganzhou China in 1990. She used to study at Gerrit Rietveld Academie in the Netherlands as an exchange student during her postgraduate studies at the Art College of Xiamen University. She currently pursues the finance industry.
Previously her works mainly involve documentaries and experimental photography. Recently, she has been trying new media apart from photography. Her series exhibitions include Nothing special2+, Nothing special 3, Nothing special 5, The possibility of an island, Blindness and Golden record – 2016 final fantasy.
About her work in this exhibition, she says,
For the recent years, I've been collecting objects and behaviors related to my own life that do exist or had taken place. In an attempt to express contemporary society, I connect them randomly as raw materials or join them in a most basic and simple way, and then create my works without much pondering. This exhibition features part of the artworks of this series.
Gallery