August 21 till August 26, 2015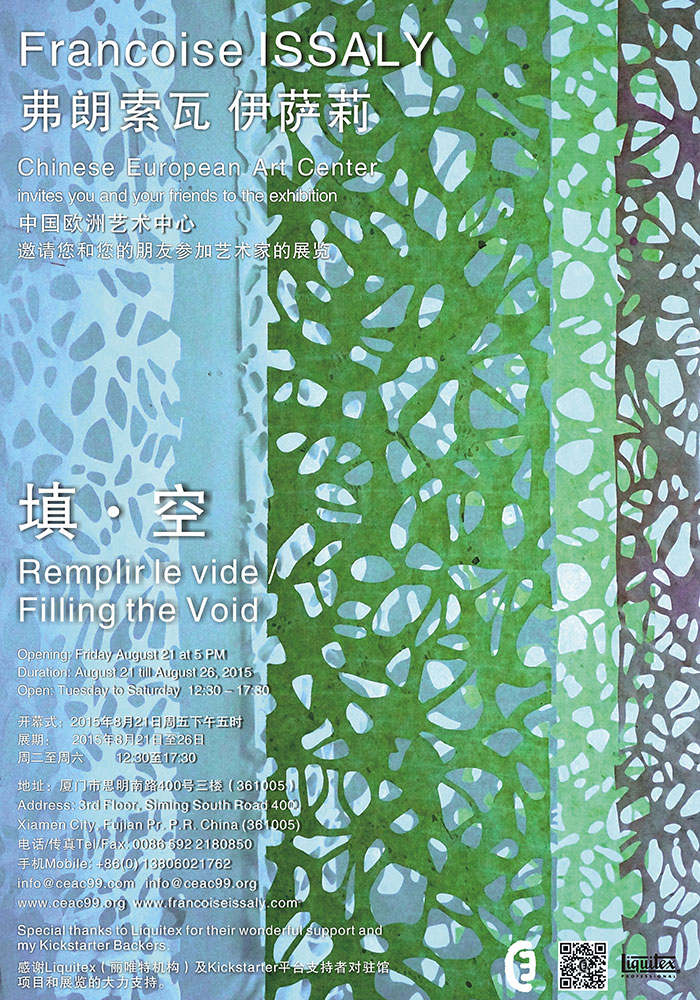 On August 21st, 2015, Canadian artist Françoise Issaly will be presenting the result of her two months residency at CEAC in Xiamen, Fujian, in an exhibition called Remplir le Vide / Filling the Void. She came to CEAC and China with the idea of working on a paper cut out installation inspired from the patterns she creates with paint. Using acrylic mediums, Issaly (who defines herself as a painter at heart), draws abstract patterns that she turns into stencils then uses as the basis for her artwork.
For this exhibition, Issaly uses Chinese traditional paper to cut out organic patterns and uses them as the different components of her installation. The elements are placed in the space of the gallery as colors or words would be placed to create a poem, a painting or a musical composition. Each of the components overlapping another, sometime masking one another, limiting our vision of each individual part but nevertheless creating a harmonious ensemble.
During her stay here, Issaly also created paintings on Chinese paper with overlapping patterns where she explored effects of acrylic mediums on paper.
In her work ISSALY intertwines the complexity of perceptions, mathematics, the geometry of space, and hidden patterns, and mixes it with her personal exploration of materials. Her work and approach is complex even though it is presented in a light esthetic appearance. In her art practice Issaly explores painting, drawing, installation, photos, videos and writing.
Gallery