August 29 till September 26, 2015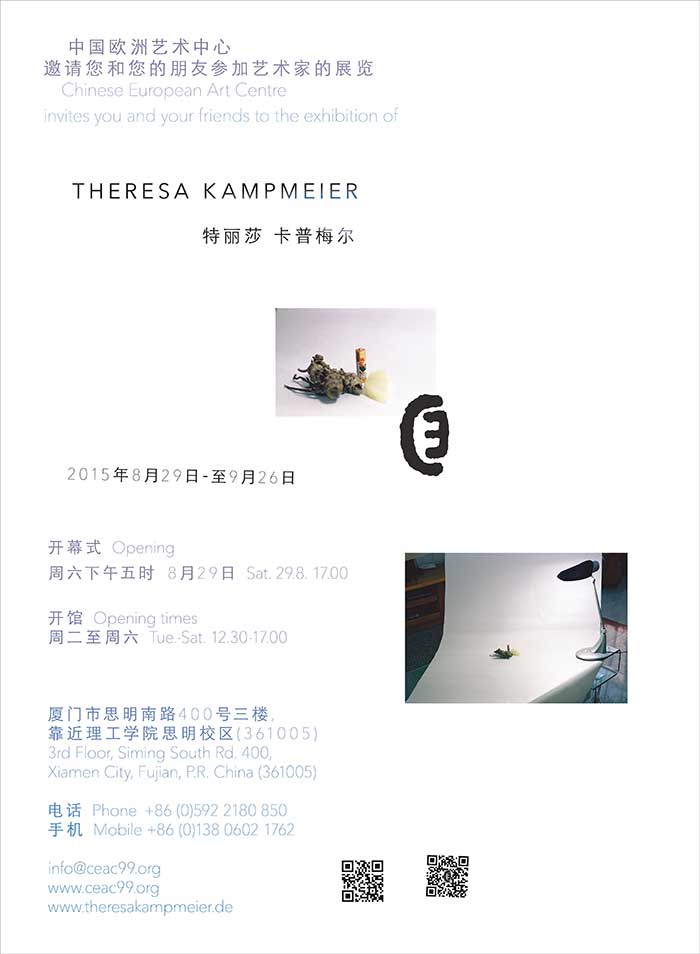 This exhibition presents a group of works made during the three months period German artist Theresa Kampmeier spent at the artist residency of the CEAC in Xiamen. Some of them can be considered works in progress whereas others are concluded.
The point of concentration and reference for all works in the show is the artist book Poems of the Cold. This publication includes 29 usable postcards showing photographs and collages, as well as a book of prose in English and Chinese. It is on display in the art center for the duration of the exhibition. It is also distributed extensively among street vendors in Xiamen, for them to use, sell or reproduce as they wish, and will probably be seen there for longer.
Furthermore, there is a sound piece on a phone line called Solitude. There is a multi-part installation occupying most of the space, left untitled and representing an organic and sparse mirror of Kampmeier's working period while writing the Poems of the Cold. In the entrance, there is a laser-engraved acrylic sheet, At Amoy, relaying visitors to an online short story through several QR codes. The images shown on the poster of the exhibition stem from the shooting of the photograph Cock, Ginger & Jade – Love Story on the Beach, part of a series yet to be concluded.
While in Xiamen, Theresa Kampmeier was reaching at possibilities of site specificity in fiction. This is a continuation of her ongoing work on place. Among other tropes visitors will find, the everyday – the common, the unspecial – plays a great role in her appeal to imagination and awareness. In language and in objects and habits, she finds the common and begins an immersed game, full of word plays, associations and suggestions; very simple. Relationships to ancient Chinese thought are extended here. The exhibition at the CEAC therefore holds a momentary glimpse of its own location seen from both: elsewhere and within its environment, while the art on its inside opens gates between insides and outsides alike, not being independent, claiming no authority, floating as a substance which only as an element is singular.
Gallery