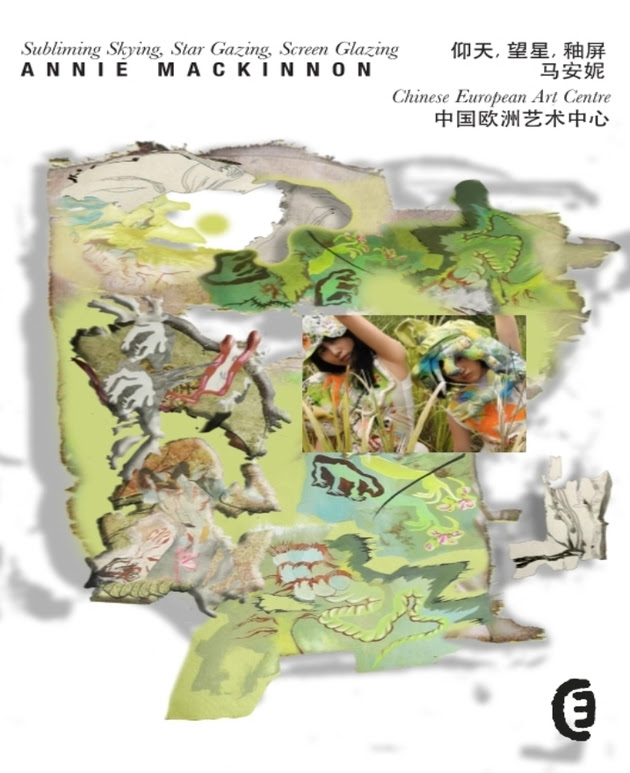 Subliming Skying, Star Gazing, Screen Glazing, is a solo exhibition by Annie Mackinnon.
Focusing on the motif of Chaos, the exhibition draws from research into the anxieties of ecological destruction, the pervasiveness of technology, and mythological beliefs that once formed the basis of interrelations between people and the environment in the past.
One key mythological narrative to Mackinnon's work is the Chinese primordial chaos or 'Hundun,' which varies across different accounts. In the Zhuangzi, 莊子, Hundun is described as having no eyes, nose, ears or mouth. Shu the God of the Southern Sea, and Hu God of the Northern Sea opened one of Hundun's apertures per day. On the seventh day, Chaos died, and the universe was born. In the Shanhaijing山海经, Hundun resembles a sac like creature, with six feet and four wings, with no face and no eyes but knows how to sing and dance. In another text, the Shen yi jing神異經 Hundun embodies a divine dog who lived on Mt Kunlun.
Within the artworks, the character of Hundun is taken as a re-occurring emblematic metaphor for present chaos between people and environmental impact. The exhibition explores the idea of simulated desires within 'Nature' landscapes: how being in nature has gained consumerist agency. Landscapes have been altered according to aesthetics, and non-native plant species prevail. Furthermore, tourist landscapes and the urge of creating content for social media leads to gestural and performative documentations of being in nature.
A New Video work filmed in Xiamen: 'Cosmic Resonance, or Spewing Inertia' explores an undercurrent of inactivity, inattentiveness despite the symbiotic nature of environmental destruction. Sublime nature scenes flick between manufactured aestheticised landscapes, plastic pollution, and surveillance mechanisms, all inhabiting a chaotic present. Two people move and pose in stillness, as an undercurrent, entwining amongst Chaos, Nature, Rocks, the Sea. In shadows of the past digitalised relics and fragments spin, nodding to characters of Chinese Mythology: Hundun or Chaos, Xiangliu the nine-headed snake who devastated ecology everywhere he went.
Alongside the video, a series of sculptural garments are exhibited at CEAC. Annie MacKinnon's physical works are always created from up-cycled materials and discarded textiles. The garments on display are representative of the interplay of fauna, mythological characters, and the bulbous Hundun, and are made from second hand bedding, and collected discarded fabric from Fashion brands.
Gallery