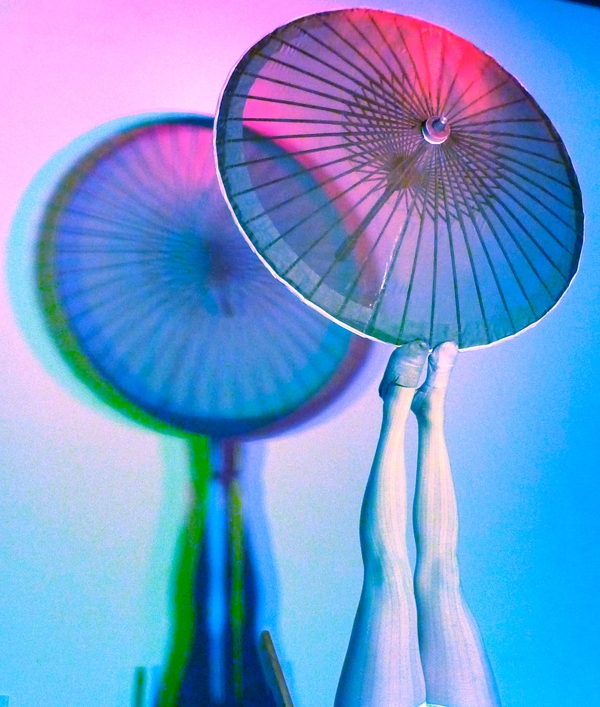 Anne Weshinskey is, first and foremost, thrilled and eager to have the opportunity to present her work to the always curious and enthusiastic CEAC audience.
Anne Weshinskey explains herself:
Although classically trained as a musician and circus performer, she now works in several mediums in which she was not 'trained' at all, but which suit the occasion—from dance, installation, poetry, literature, circus, storytelling, video, puppetry, performance art, sculpture, painting, drawing, multi media, and anything and everything except photography. Underlying her work are the themes of aberration and deviance as mechanisms in the pursuit of balance and control amidst chaos.
This exhibition and performance at the CEAC offers a new gallery context for me to fuse together my traditional circus and acrobatic skills (learned in China and the U.S.) with my contemporary art practice. My acrobatic training, and specifically my work with the umbrellas, has taught me that first of all—chaos is not relevant—and second of all, that relinquishing control leads to the ultimate attainment of balance. The road to mastering the umbrellas requires a physical, mental, and emotional discipline which few people possess. This time and energy-consuming practice constitute a type of creative ritualism which is a pathway to gnosis and balance in many traditions, as well as in my work.
The work for this show came as the result of a residency period at the CEAC. This particular exhibition is part of the exploratory process into a bigger contemporary circus stage production, which also investigates the same motifs of balance and equanimity. This particular exhibition is a tribute to the umbrella and everything that it signifies. Umbrellas obviously mean shelter and protection to most people in most cultures, but as someone who spends an abnormal amount of time with umbrellas, I have infused them with much more significance than the average person, and I intend to share that.
In eastern spiritual traditions, the umbrella's handle symbolizes the central axis that sustains the world, so that the person being sheltered by the umbrella is at the center of its universe. The acknowledgment that the holder of the handle is at the center of things is also a refusal of chaos. The lightness and free-floating beauty of the umbrella is not only intrinsic to it, but is brought out by the severe control and taming of the person manipulating it. It can also be dangerous, but paradoxically, only by letting go of control, can one hope to tame the beast.
*Performance direction by Oskar Samson Gudmundsson.
*Kisses to Arni Gudmundsson for providing technical assistance and collaborative input.
Gallery