February 15 at 5 PM, 2014
February 15 till March 12, 2014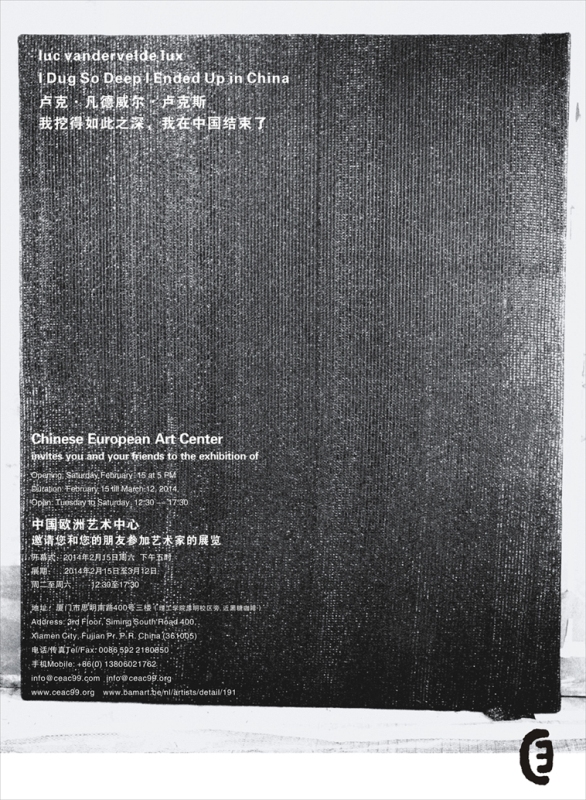 My name is Luc Vandervelde Lux. I'm an artist / painter from Brussels (Belgium). Two years ago I made a major change in my work. Originally, I was influenced strongly by photorealism; but I always wanted to be an abstract painter. So I challenged myself to become one.
I had two goals in mind when I decided to come to CEAC:
1. I wanted to work with different materials then I previously had worked with.
2. I wanted to experiment with how to present my work in different way.
When I first arrived in China, I immediately felt a very different kind energy than back home. An energy that's very stimulating. Is this China today!? It stimulated me to travel around and to explore even more than I had planned. In all the places I've been I saw a country in full expansion.
I was very curious about the way the rural areas developed. For instance, in construction projects: What is the role of the architect and developers? Are they accepting the influence of the cities? What's the process of urbanization in an "ordinary" village in China?
But I'm mostly interested in what kind of materials they use … mud bricks, bamboo, different kind of cloths… materials that I want to use in my work.The materials that I use for this exhibition are best described as "useful" and "fragments of everyday things" – an appropriation of reality.

Gallery