Saturday December 31 at 5 PM, 2011
December 31, 2011 to 12 January, 2012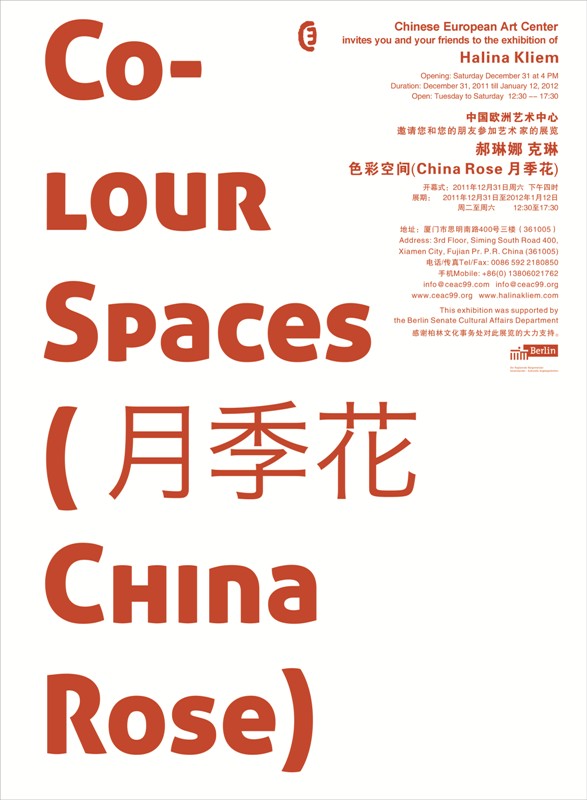 On December 31st 2011 at 4 pm The Chinese European Art Center opens the exhibition Colour Spaces (China Rose) by the German artist Halina Kliem. Halina has been, and still is, staying on the CEAC Artist in Residence program where she made the works for this exhibition which consists out of projected slides installation.
Halina studied art at the Academy of Fine Arts in Hamburg and at the Carnegie Mellon University of Arts in Pittsburgh USA and at the University of the Arts in Berlin where she graduated with MFA in Visual Art Studies in 2007. Halina has exhibited her works in many countries in Europe and in the USA and South America but this is her first exhibition in China.
About her work she says: We can shape the equal negative space as a balance to positive space. This basic and often overlooked principle of design gives the eye "a place to rest" increasing the appeal of composition through subtle means. The term is also used by musicians to indicate silence within a piece. Usage of negative space will produce a silhouette of the subject. Most often, though, negative space is used as a neutral or contrasting background to draw attention to the main subject, which is then referred to, as the positive space.
The use of white space is a key element in my artistic composition for the Chinese European Art Center. Negative space may be most evident when the space around a subject, and not the subject itself, forms an interesting or artistically relevant shape. Such space is occasionally used to artistic effect as the "real" subject of an image. It is that portion of a page left unmarked.
The duration of this exhibition will till January 12, 2012 and it is our last exhibition of this year and the CEAC will be closed during the Spring Festival and will open at the beginning of February with a new exhibition which will be announced later.
We wish you a Happy New Year.
Gallery