June 19 till July 11, 2009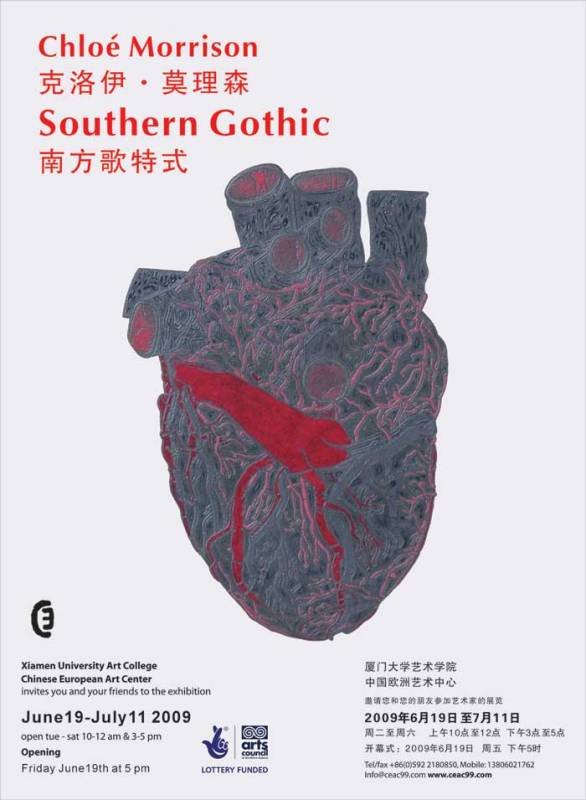 Chloé Morrison presents an exhibition of new work made during her residency at the Chinese European Art Center. The small number and diminutive scale of the drawings presented may result in the exhibition seeming rather slight and inconsequential at first glance, however detailed and patient viewing will reveal the drawings intensively worked surfaces, heavily loaded with meaning. The obvious craftsmanship employed provides an emphasis that serves as a lightning conductor for the works explosive content.
The subjects themselves are easy to grasp. The human heart, that beating pump which propels our lives, is recognizably represented. As is the bat, an animal that the artist observed flitting through the night skies of Xiamen.
Morrison uses firm lines when she renders this physical organ and animal. She stresses their shapes, apparently attempting to underline the realistic nature of her subjects.But those who are sensitive to the evocative atmosphere that emanates from these "normal" drawings, will immediately observe an abnormal, uncanny sense of disquiet. It's not the old issue of life and death that is at stake here. It's rather the uncomfortable feeling of an ominous atmosphere. Dusk, rather than bright daylight, provides the perfect environment for the mental state described by Sigmund Freud as unheimlich ('uncanny' in English). Moments that make your flesh creep often surface when you feel uncertain about the realistic aspect of something, for example, the human figure. In literature and art the notion of gothic is akin to the Freudian unheimlich. What differentiates the two sensations is the gloomy, ominous atmosphere of the former. Gothic triggers the intuition of a nightmare; something natural like a bat can be interpreted as being a messenger of evil.
Whilst undertaking research into the gothic during her stay in Xiamen Morrison was interested to discover that it is not just a phenomenon of the West, but is also present in Asia, particularly in the South East region. As Morrison became increasingly aware of the potentially gothic elements within Southern Chinese culture, many aspects of her daily surroundings, from the bats on Gulangyu to the ghostlike ships lying stationery on a sea often shrouded in mist, provided a stimulus to the charisma of her explosive drawings.
These drawings should not be read as simple representations, but rather scrutinized inch by inch. Morrison's works can be as time consuming for the audience as for the artist. However once the layers start to exude their mysterious gloom, the viewer will be gifted with sensibilities that