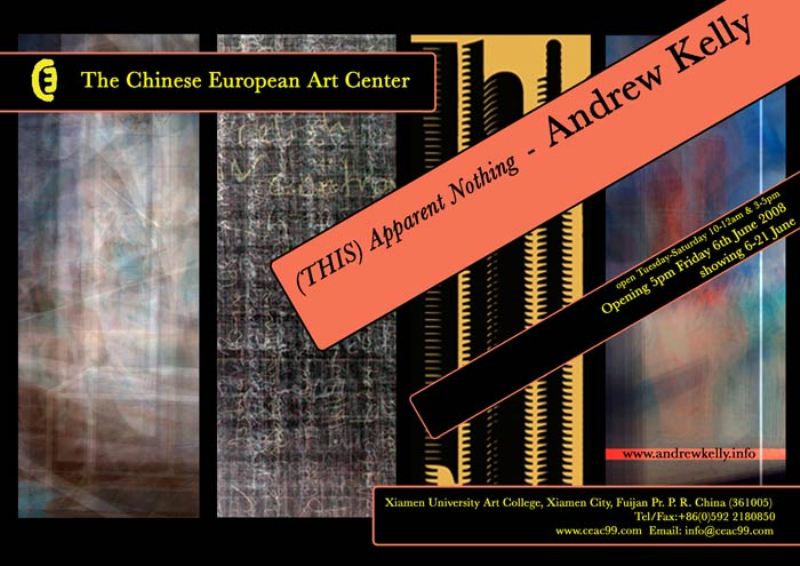 A major concern of Andrew Kelly's practice is how value may be placed on 'artworks'. The work is produced in response to his feelings' paradox, that either art is not appreciated enough, or sanctified too much, either by artists themselves or other figures in the art world.Kelly displays a capacity to initiate a series of enquiries that co-relate philosophical and conceptual discourse, a personal relationship with images derived from diverse environments and professional commitment to the exploration of digital media.

A major focus develops from philosophical/metaphysical questions, such as the notion of nothingness. He addresses these issues though photography, film and text. When trying to write about 'nothing' one ultimately begins to define it , making it something. Attempts to make a photographic image of 'nothing', render the incapability to do so, thus developing the paradoxical state that his practice works in. These processes create ephemeral and evolving works, aiming to subvert the apparent model for valuing and making art.

Every work for Kelly is an attempt to understand his own scopophilic tendencies of why one needs to make, photograph or film things. Challenging the notion that 'nothing' really is 'nothing' has become analogous to a metaphor for the way in which we might value or devalue art. This has meant that the practice has become very open and extremely democratic to itself. He maintains a focus yet has examined his ideas in diverse ways developing independent bodies of imagery relative to specific themes generated through the engagement with object, place or context. Working in China has allowed Kelly to focus on a new body of work that for the first time pays attention to the hypocrisy within the playground of media and governmental powers around the world.

All works are the results of methodical processes documenting the concerns of each piece. Whether layering images of personal occasions, or documents of thought processes and reading, there are double sets of criteria concerning value in each work, working against each other. The more content in a piece means that more ideas and time have been documented, yet creating a work that may only appear to be an attempt to present beauty. The intention in fact, is to strip away the meaning of each image or thought to form an unimportant surface, which ironically may become valued as an artwork. This is where Kelly's problematic relationship with aesthetic pleasure is embodied.

As part of the exhibition, Kelly has arranged XTOL , a live sound performance based around a formulated board game. Players will be linked to an exhibition in Leeds, UK where they will directly influence and respond to their game partners in UK. Via internet link, a 30-minute audio dialogue will take place.

Performances: Monday 9, Tuesday 10, Wednesday 11 June at 17:15 in CEAC.

Gallery