September 19 at 5 PM, 2008
September 19 till October 10, 2008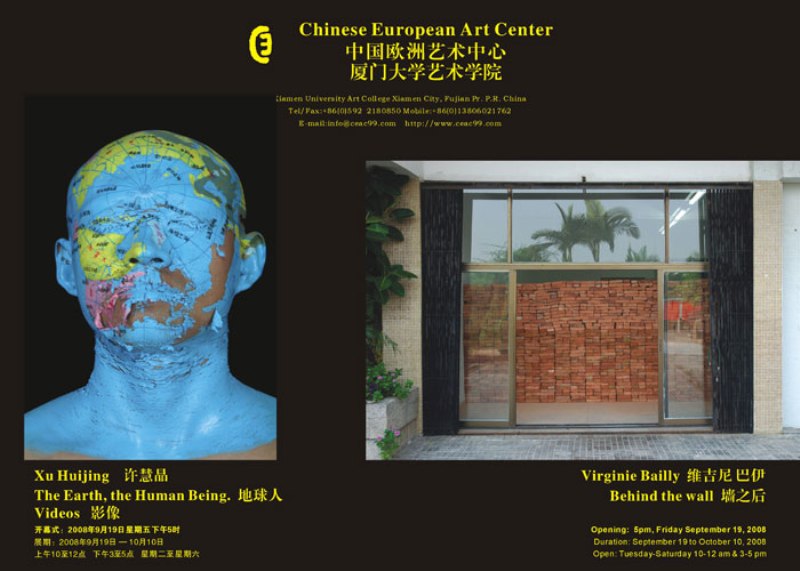 Xu Huijing: 'Do you see? I am here.''The Earth, The Human Being'
"Each of us is a universe. We used to the integrated with the earth but we are shattered apart in the reality. This is a world where we walk around like fearless monsters. We are limbs incised from a body, a finger, a neck, a stomach, an elbow, but never a human being."

Virginie Bailly: 'Behind the wall' there's 'a mop for every day'
Between 2006 and 2008 I stayed three times in China and explored the areas around and between Beijing, inner Mongolia, Shanghai, Hong Kong and Xiamen. During these fascinating travels a variety of images were imprinted on my retina. Three times I looked at China, though each time with a different eye.

My first look at China was characterized by surprise, chaos and overwhelming images, but was at the same time limited to an aesthetic formal language and a feeling of alienation originating from that. I read above all the beauty of China. My second travel provided me with a wider view. Forms were linked with content – beauty was converted to appearance. Because my view was broadened, certain aspects that were troubled by fascination and overwhelming feelings during my first trip were now illuminated. One of the most striking elements were the piled brick walls that were erected in both the countryside and the cities. The walls each told their own story. Were they there to be used? Or were they waiting to be taken to another place? As I became more and more absorbed by China, those autonomous sculptural walls became a metaphor for the country. The construction and deconstruction of metropolises. The destruction old quarters to make way for new estates. Brushing up the streets for the Olympic Games in Bejing and the world expo 2010 in Shanghai. Certain aspects of Chinese culture are concealed by those big walls that serve as fences. Demerits are hidden by the pursuit of harmony that creates a one-sided image of China at the expense of its multiple richnesses.

During my stay in Xiamen I recorded images with my video and photo camera that made me decide: 'Behind the wall' there's 'a mop for every day'. The mops caught my attention in the first place because they are funny and unknown instruments to fight the dirt. More and more they came into the picture: a mop in the gutter; one on a hatstand, another leaning like a dull doorkeeper against the door, still another one planted with its handle in a flowerbed and finally a whole row of mops in a temple as a group of graceful cheerleaders for Buddha. In short, I started to collect those images in which mops in all their appearances got their own character and individuality. In relation with the brick walls, the instrument to remove dust and mud all of a sudden got a metaphorical meaning; they both clean up temporarily.

Gallery