October 17 till November 7, 2008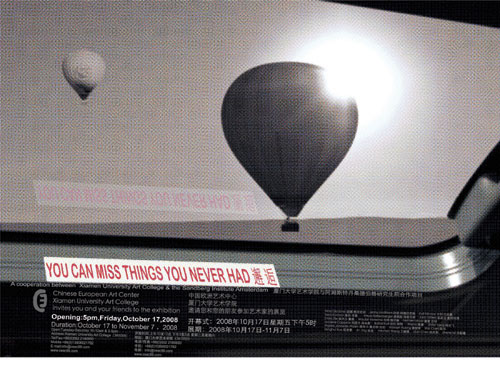 The Chinese European Art Center invites you to the exhibition You can miss things you never had, a cooperation between postgraduate students of the Multimedia Department of Xiamen University Art College and the MFA students of the Sandberg Institute Amsterdam. Twenty European and Chinese students are selected for this show.

The exhibition You can miss things you never had is about the desire to transform. The title, referencing the sixties hit by Ike & Tina Turner, points to a quickly changing world and the longing to step forward and experience something new. It shows a concise interplay of young European and Chinese contemporary art. This fruitfull cooperation, strengthened and underlined once more in this exhibition, combines artworks about cultural identity and its perception as well as personal and unique positions. Most of the works on view are specially created for this artistic intercultural encounter. Live performances take place during the opening.

Participating artists: Libin Chen, Wei Chen, Marieke Coppens, Nina Glockner, Freya Hattenberger, Xiaoqin Huang, Jin Jing, Wypke Jannette Walen, Vera Korman, Battal Kurt, Jenny Lindblom, Hermen Maat, Zhenxi Mi, Kali Nikolou, Julia Ortlieb, Wouter Venema, Zenghui Xue, Hechen Wang, Weina, Zhifei Yang and Emile Zile.

Gallery