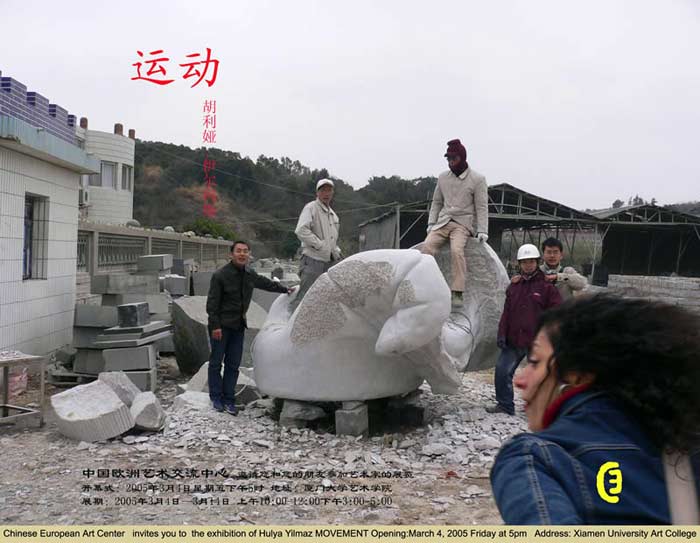 For over ten years Dutch artist Hulya Yilmaz has been very fascinated by the magic of nature. In her eyes air and water are not just necessary substances in our daily life , they have their lives as well and they have many faces for the perceptive eyes to capture and highly attuned minds to appreciate.

Hulya will show her solo exhibition "Xiamen Gang" in the Chinese and European Art Centre at Xiamen University from March 4 to 17, 2005. All the works were made during her stay as Artist in Residence in CEAC since last December. Her theme is the movement of water at Xiamen Port, which we see every day but the beauty of its movement and forms of which we are very likely to ignore. Hulya is obsessed with different faces of water formed by aligning itself, moving, changing and flowing like what life is. Her ways of expressing her obsession towards water vary from photos to sculpture.

Dynamics is the core of her work and here aim is to create exciting relations between form, material and size the research of movemnt-not in a scientific way but as a visual presence- is what occupies her. In the sculpture MOVEMENT B nr.11 she shows the motion of water as volume and mass in its constantly changing appearance. Starting from a mental image, it undergoes slight changes during material "translations". Heaviness stands next to lightness and the contrasts emphasize one another.

In order to make her sculpture and bring out the best possible effect of dynamic movement of tide washing ashore through woking, Hulya has been travelling to Hui'An, the stone city many times choosing, using and experimenting with local granite and working with the local workers. The very moment of tide washing ashore is frozen into granite and the transience of moments is permanent.

Gallery