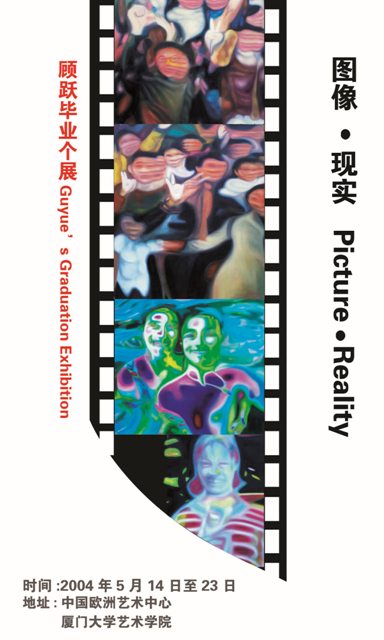 Paitings Gu Yue is presenting on this exhibition are chosen from the works he has created over the past three years as a postgraduate student in Art College. Other medias like installations, video films and photo works can also be found on this exhibition.

Through Gu Yue's practice in creating art pieces with different medias, we could trace a clear feature of his works: the sharp criticism and questioning—the sensitivity to catch any reality that reflects the real world in individuals' eyes. In this sense, Gu Yue's paintings exhibited this time represent his development in two directions: his reflection on the "picture age" we are living in, and his discovery of people's real life condition from pictures. There is never fine line between the two directions. But in Gu Yue's works, the relationship between picture and reality has been shifted.

Pictures would become blurred when overlapped. When Gu Yue takes overlapped picture as an important elements of his works, he is pleasing the audience with visual satisfaction. He gets rid of the habit of telling a story to audience in and normal conditions: to stimulate the audience to think and judge with the help of clear images. He only shows the audience the abstraction of blurred pictures and people's special embarrassment reflected by such abstracted pictures: we could not tell any differences of needs and desires from the blurred faces and the exaggerated motions. Is it the characteristic of the "picture age"—the time dominated by medias? Or the author's feelings in such a reality? This is the question Gu Yue leaves to us audience. Let us appreciate his works and ponder our own answers.

The other parts of the exhibition are related to the images that produced with the help of photoshop: they are "imitations" of the visual images often produced by photoshop on canvas, which are much larger than computer screen. Those images are funny and sarcastic, which focus on people's embarrassment in the relation between human beings and machinery.

Gallery