January 10 at 10 AM, 2003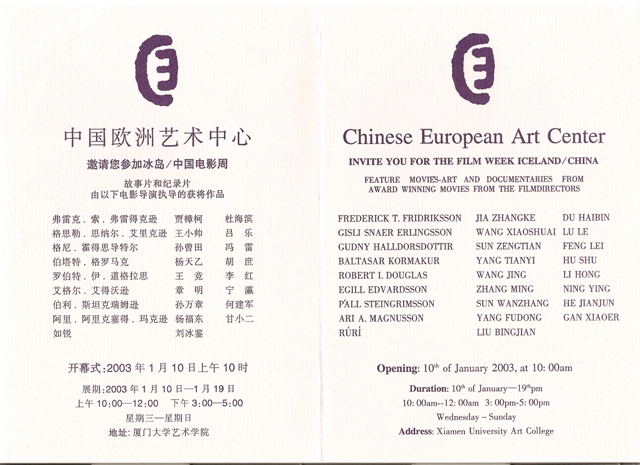 THE FILM WEEK ICELAND/CHINA FEATURE MOVIES-ART AND DOCUMENTARIES FROM AWARD WINNING MOVIES FROM THE FILM DIRECTORS FREDERICK T.FRI DRIKSSON, JIA ZHANGKE, DU HAIBIN, GISLI SNAERERLINGSSON, WANG XIAOSHUAI, LU LE, GUDNY HALLDORSDOTTIR, SUN ZENGTIAN, FENG LEI, BALTASAR KORMAKUR, YANG TIANYI, HU SHU, ROBERT LDOUGLAS, WANG JING, LI HONG, EGILL EDVARDSSON, ZHANG MING, NING YING, PALL STEINGRIMSSON, SUN WANZHANG, HE JIANJUN, ARIA.MAGNUSSON, YANG FUDONG, GAN XIAO'ER, RURi, LIU BINGJIAN.

Li Hong
Dancing with myself

When I began to film, I thought would film a love story: one month later, I just want to answer a question: how come they dance?
Perhaps only dancing can make living.
Perhaps only dancing can make you forget living.

Lv Le
Mr.Zhao is a philandering university professor whose wife is on the verge of losing her factory job. Her life becomes even more troubled when she catches him in bed with a young former student and is further insulted by his half-hearted explanations.His mistress now sees a chance to finally win him over for good, but he is reluctant to make a choice, even after she reveals that she is pregnant.

Jia Zhangke
Xiao Wu
Filmed on a small budget with an on professional cast, Xiao Wu follows its eponymous protagonist, a small-time pickpocket, through the days and nights of his amiable but aimless existence. Increasing difficulties accrue(family and friendship troubles, mixed romantic signals from the os tess at the local karaoke bar, a crackdown by the local police) until, a this most vulnerable, Xiao Wu lets loose with singin the local bathhouse.
In Public(tiong Gong Chang Suo) by Jia Zhangke
A suburban trainstation. A man in military overcoat is wandering in his own solitude. It is late at night. Avhist1e breaks the silence. A train arrive, a woman and a heavy bag of rl our appear on the platform. A bus station in the mining area. An old man is making all his effort to zip his coat. A young lady miss her hus.Try to settle her breath, she hear a ringing bell from a distance. Interior of trenhi ing bus. A young boy finds his tooth pain unbearable. A bus converted in torus it aurant, a man get in it interior night. In a hall a Mafia is seating comfortably or the vechicle's seat, contemplating women passing by. The music is still on can cing non-stopped. Never tho less, we can sense the fatigue in this unknown pieusure.

Yang Fudong
An Estranged Paradise(Mo Sheng Tian Tang)
Young intellectual Zhu zi lives in Hangzhou, known to be paradise on earth because of the city's beautiful scenery. He, together with his fiancee Lin shan, leads a quite life there.The rainy season usually comes every March or April, hut it comes abit early this year.The city becomes wet and cold. Zhu zi suddenly feel sun well, hit by anxiety and nervousness.He knows not where they come.Suspecting that he is ill, he keeps going to the hospital to have every part of his body checked up, his eyes, his nose, his ears, and his bones. After each checkup, the doctor invariably informs him he is all right. Gradually, Zhu zi realizes that the doctor is right. He worries about his health no more. The quiet and prosaic life that he is leading was what he really feared. He finds that he still loves life. He feels that he should lead a happy life. By then, the rainy season in Hangzhou is almost over.

Feng Lei
Snow Falling in YiLi(Xue Luo YiLi)
The lieve the purpose of docu nent aries is dri wing out the truth, and identifying the right paths and dir ctions. The truth is in the details. Likes cns nrs, the details are casily felt. Ke use close shots with simple lighting, trying to convey our feeling through the most direut and unpretentious neans. When doing post-production editing, the idea of falling snow suddenly occurred to me. Snow and the little girl share similarities in th cir nature, both are simple and pure. Falling snow is part of a natural cycle that every point is the beginning and the end. The story of Bah cila, as parL of agreaLer lifecycle, is a portray of life and eternality.

Yang Tianyi
Old Men(Lao Tou)
In the summer of 1996, the filmmaker moves into a small resident district and one day passes by a group of old men soaking up the sun and chatting under a wall. She stops for them… It takes her three years to make this film and in this time, record their attachment and their longing for life in their twilight years, and also witness some of their passage to death–all in 90 odd minutes, with unaffected care permeating from every frame and shot.

Emily Tsang
Conjugation (Dong Ci Bian Wei)
Set six months after June 4, 1989, Conjugation follows a pair of young lovers as they deal with the emotional and moral aftermath of that life-changing event. Guo Song, a recent university graduate, is assigned to work in a small factory. He shacks up with his girlfriend, Xiao Qing, a cafe waitress. Their run-down bungalow provides the only refuge against the petty oppressions of life. Unable to deal with the monotony of his job, Guo Song quits the factory. Soon the couple runs into financial difficulties, and they have no other option than the money in the donation box. In the end, they could only trace their former idealism in the memory of a dead comrade-in-arms.

Liu Bingjian
This is a story about an ordinary Chinese woman. CRY WOMAN is like am im or that reflects the realistic life in contemporary China Most of the characters in the film will be played by amateurs. I believe this will ac eurately record the living and spiritual status of the individuals who are in the social bottom and how a changing society canal fect one's destiny, as well as recover the humanity. As a matter of fact, CRY WOMAN looks like a comedy but a tragedy inside. The economical refomin China has affected every aspect of Chinese people.They have to face the changes brought to their existence, concept and social valucs. In a changing China, the feelings of its people are very complicate. A woman like Wang Gui xiang can only express her face lings and emotions bye rying for the dead What she wants to get back is what she lost.

Gan Xiao'er
The Only Sons(Shan Qing Shui Xiu)
With his brother awaiting his sentence, young peasant Yashui and his wife need to raise the bribe money to save his brother in from the death cell. They decide to sell their unborn child. They chance upon a missionary couple who have gone through their emotional and moral suffer crying, and stil1 bear their sensce of guilt and hope for saving grace. With tho help of school principal Cheung, they manage to sell their chi1d and raise the money. However, they are too late for Ya chong's sentence. Ya shui is totally broken and his wife drowns herself. The child, however, is returned by the police. At the end, the missionary couple take the child away, leaving Ya shui and his viliage, to be swallowed up by the falling night.

Sun Zhengtian
The Passing of The Last Mountain God
Winner of Asia-Pacific Broadcasting Union'1993 TV Prize. Through no longer a nomad. Meng Jinfu of the Eroqen ethnic group, still believe that the Mountain God is the sole guardian of the hills and forest around him. He carves a mountain god whenever he reachs a new forest, using primitive tools and simple methods. He is one of the few people who try to hang on to a traditional way of lift in a rapidly changing world.


Gallery