February 28 at 5 PM, 2003
February 28 till March 7, 2003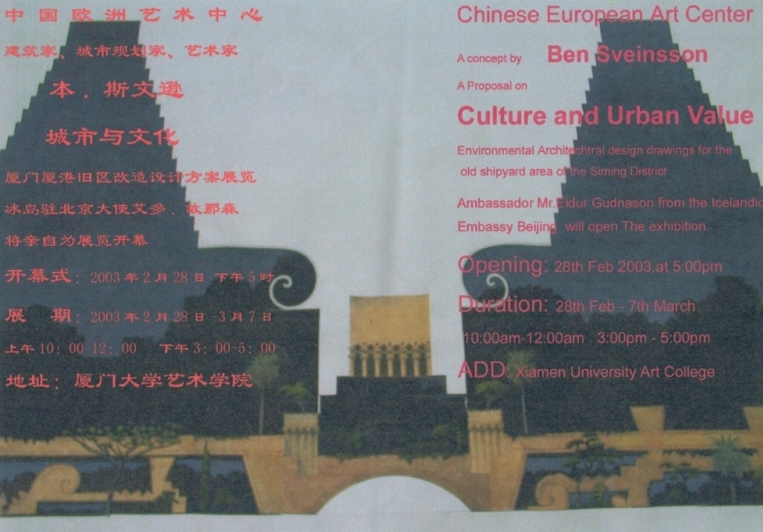 A brief introduction
a. The Siming district is in this concept to become an urban area with the characteristics of a city centre or a semi centre. It is supposed to provide all facilities for demands of middle class urban lifestyle:Business, all kinds of services, shopping in street markets, malls, boutiques, you will encounter restaurants, cafes, bars, cinema and other leisure time facilities as well as cultural offer provided by the culture centre and its institutions. It is as well an area for living, working, spare time and cultural activities.
b.The layout of this downtown as the architecture of its streets, alleys, squares, plazas and oases is supposed to give a attractive stage for urban life. Designed to gain urban value, a city itself as cultural project, which is intended to attract, not only other districts of Xiamen city, but over regional areas as well.
How to reach that goal.
The new Siming downtown, some 500×900 meterinits nucleus, will have the
following characteristics,
1.Non-or very limited car traffic(no driving through).The intention is a calm downtown, with intimate moments in its little streets and idyllic in its oases, but a downtown full of life in its street markets, shopping streets, plazas and piazzas, harbourside or at the culture centre.
2.The downtown, at its outer border, is surrounded with a line or wall of high buildings, up to35 floors, witch enclose the area, creating a kind of valley or canyon, in witch the lower city is located. The high buildings serve three important aspects:a.Provide the density, necessary to create an intensive urban life. b.Spare ground for valuable environment, both within the city as out of the city. c.Keep distances short, witch contents an ergonomic and ecological aspect.It's to be mentioned, that the high buildings are in a certain sense economic, both for investor and habitant. For the habitants it provides quiet atmosphere high above the ground and wide range and sometimes splendid view.
Gallery