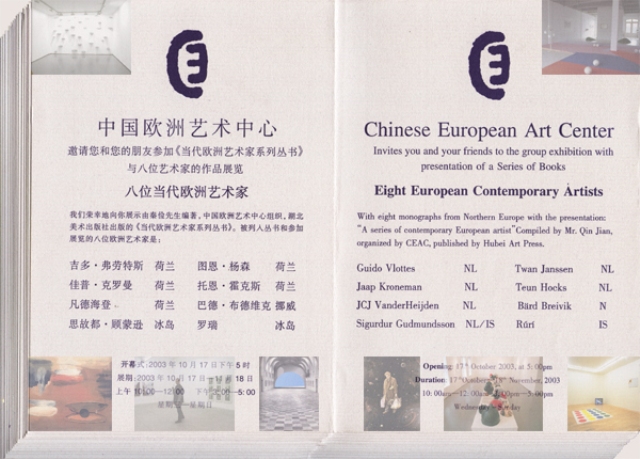 Group exhibition: " Sculptures, Photography, Installations, Video " by Guido Vlottes NL, Jaap Kroneman NL, CJ Vander Heijden NL, Sigurdur Gudmundsson IS, Twan Janssen NL, Teun Hocks NL, Bard Breivik N, Ruri IS.
Eight European artists who are exhibiting together in Xiamen have had their works compiled into a book by the Chinese European Art Center (CEAC) at Xiamen University.
The author of the book, Professor Qin Jian, spoke at the opening ceremony of the group exhibition of the eight artists. The artists include Guido Vlottes, Jaap Kroneman, JCJ VanderHeijden, Sigurdur Gudmundsson, Twan Janssen, and Teun Hocks, from the Netherlands; Bard Breivik, from Norway and Ruri, from Iceland.
Over the past four years, the CEAC has presented over thirty exhibitions to a primarily Chinese audience. Works exhibited over the years represent the trends in European contemporary and experimental art from the 1970's to the present. "Contemporary art relates closely to life experiences, and expresses new ideas by means of new forms. Our guiding principle has been to exhibit truly innovative new art rather than mere variations on trendy ideas." Professor Qin stated."The practice of art is no longer an isolated expression of thoughts and feelings understood only by a trained audience. On the contrary, the rapid and great development of contemporary art is indeed undergoing a process of questioning resulting in breakthroughs and discoveries about the nature of culture itself." He said.
In Chinese art circles, there is a saying that in the past twenty years, China has percolated all the modern and post-modern art forms created by Western artists over the past century. The speed of assimilation in the arts, as with all the disciplines, is due to China's unique situation in the twentieth century. The presentation of the series of the books, as well as the group exhibition, is certainly a part of the efforts of the CEAC in introducing contemporary European Art to China on a long-term basis.
Ineke Gudmundsson, director of the CEAC, spoke highly of Professor Qin and all of the artists who worked very hard on this project free of charge. "We thought it would be a good idea for the viewer to walk around with the books while looking at the exhibition. And I hope you have a joyful time here with the books in your hands and the art around you." She said.
Gallery