November 21 at 5 PM, 2003
November 21 till December 1, 2003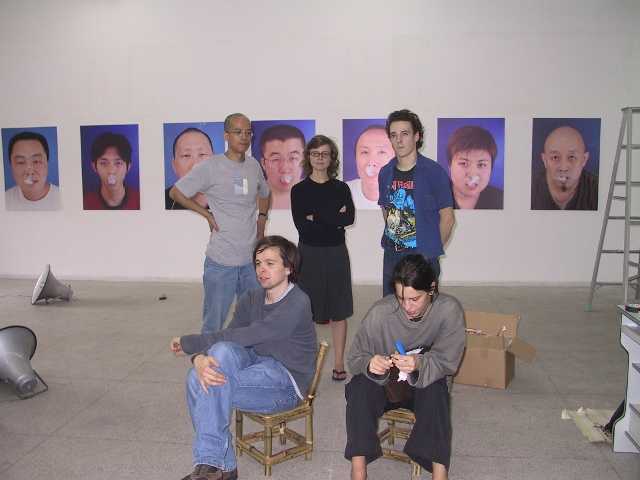 Chat and Chat is the idea exchange between Belgian and Chinese contemporary artists.
Project curator: Zhu luming
Participating artists: Nico Dockx, Helena Sidirppoulos, Fanny Zaman, Stefaan Smaghe, Jethro Volders, Dong Xing, Ma Yong Feng, Shen Ye, Shen Jing Dong, Wu Ming Hui.
An art workshop between Belgian and Chinese artists in Xiamen. This exchange project is based on a utopian idea-to bring together people from
different cultural backgrounds really collaborating and working together.
What do we want to do?What shall we do together?And how shall we do it?
We intend to realize a constructing process between the various disciplines-like within a laboratory.I am very interested to see what this agitator-like cooperation will eventually produce.In the agitating process the existing experience and thinking patterns are thrown into a confusion and at the same time new questions are arising:which factors allow us to have dialogues with each others?And where to will it lead us?Is it in the form of the artwork-something that can be felt?Or does it exist in a certain time and space but comes to almost nothing in the end?Or will this outcome eventually continue its development in some organized form or operating mode?And how can we communicate with our audience as artists?
Yes, we are in an exchange period.A question of collaboration. I think this cooperation mode does not intend to create something new-a form
or a shape, but it is much rather to breakout of existing working and thinking models and to create a platform that really allows people to communicate. People will then no longer be confined to their own experience; instead they will exchange their thoughts in order to explore new possibilities and reflect upon these elements of change-as artists. Perhaps that looks like chaos: everything being in a state of constant flux and mixture.But does order evolve from a state of chaos?
Let us exchange views and ideas….
I want to express my gratitude to the following institutions and individuals for making this project possible:
The artists
The Ministry of the Flemish Community, Belgium
The Higher Institute for Fine Arts, Belgium
Stiftung Kun s lerdorf Shopping en, Germany
The Chinese European Art Center, Xiamen
Zhu Lu ming

Gallery